The Womb & The Diamond
January 31 ~ May 30, 2021
Vital Space & Art Corner at Taichung National Theater, Taiwan
Curated by Dr. Jau-lan Guo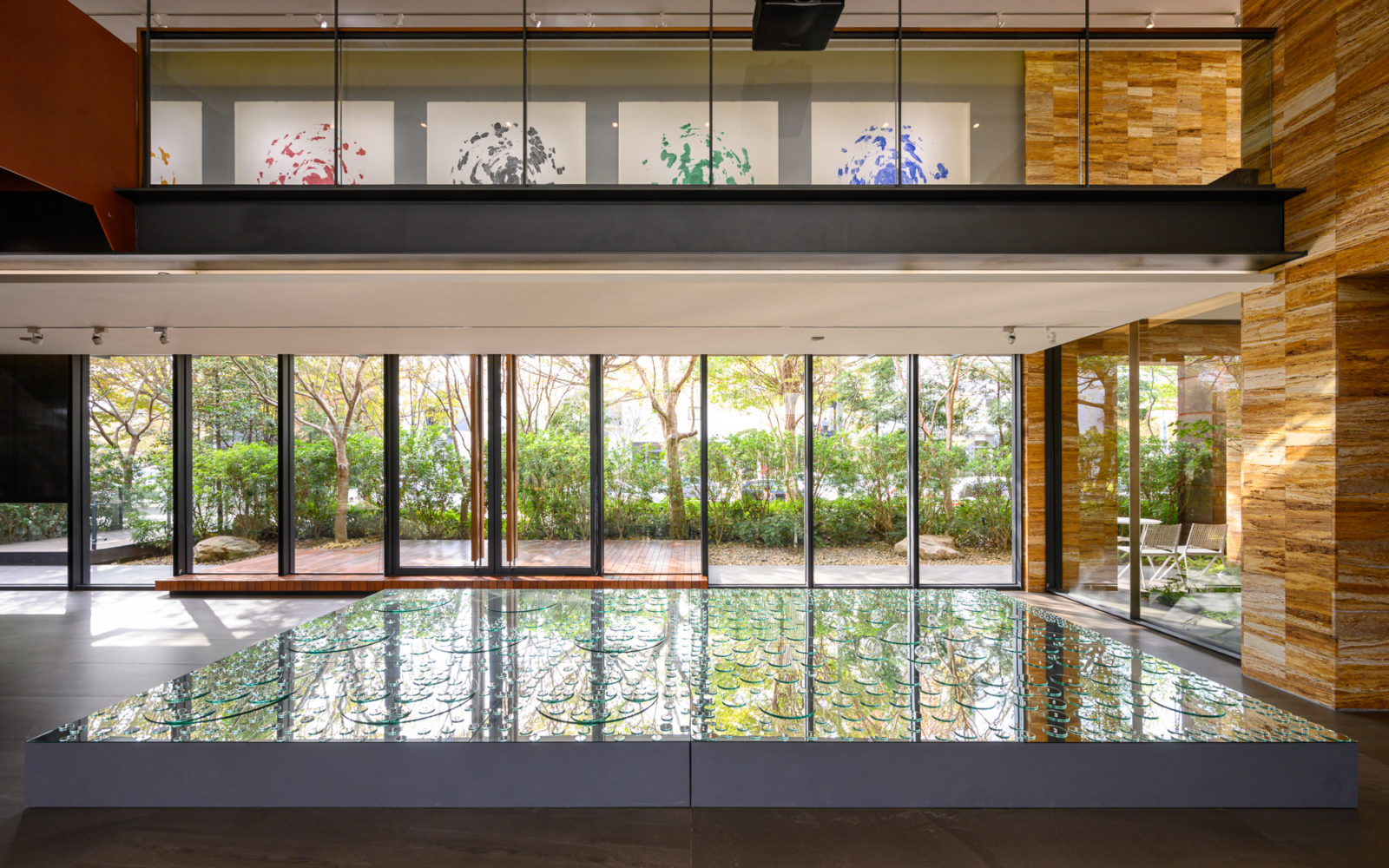 The Womb & The Diamond is a solo exhibition by Taipei-based artist Charwei Tsai and curated by Dr. Jau-lan Guo at Vital Space and Art Corner at Taichung National Theater in Taiwan. This exhibition presents a series of newly commissioned projects inspired by personal pilgrimages that the artist took in the past three years. Through these journeys, Tsai traces the wisdom tradition of tantra that is stemmed in fifth century India and through the medieval trade routes across western China, it reached furthest east to Japan, south to Java, and north to Mongolia.
The central piece of this exhibition is a six by three meter installation made with glass and mirrors in reference to The Womb & The Diamond Realm mandalas from Koyasan in Japan. Known for writing mantras on ephemeral materials, for this project, Tsai experiments with using breath and the sound of reciting one-syllable mantras to form each glass piece. These captured mantras are then placed on a circular mirror as a part of the larger mandala. Throughout the the exhibition period, visitors are invited to take a flower petal and visualize it as an entire cosmos and dedicate it to victims of the pandemic by placing the petals around the mandala.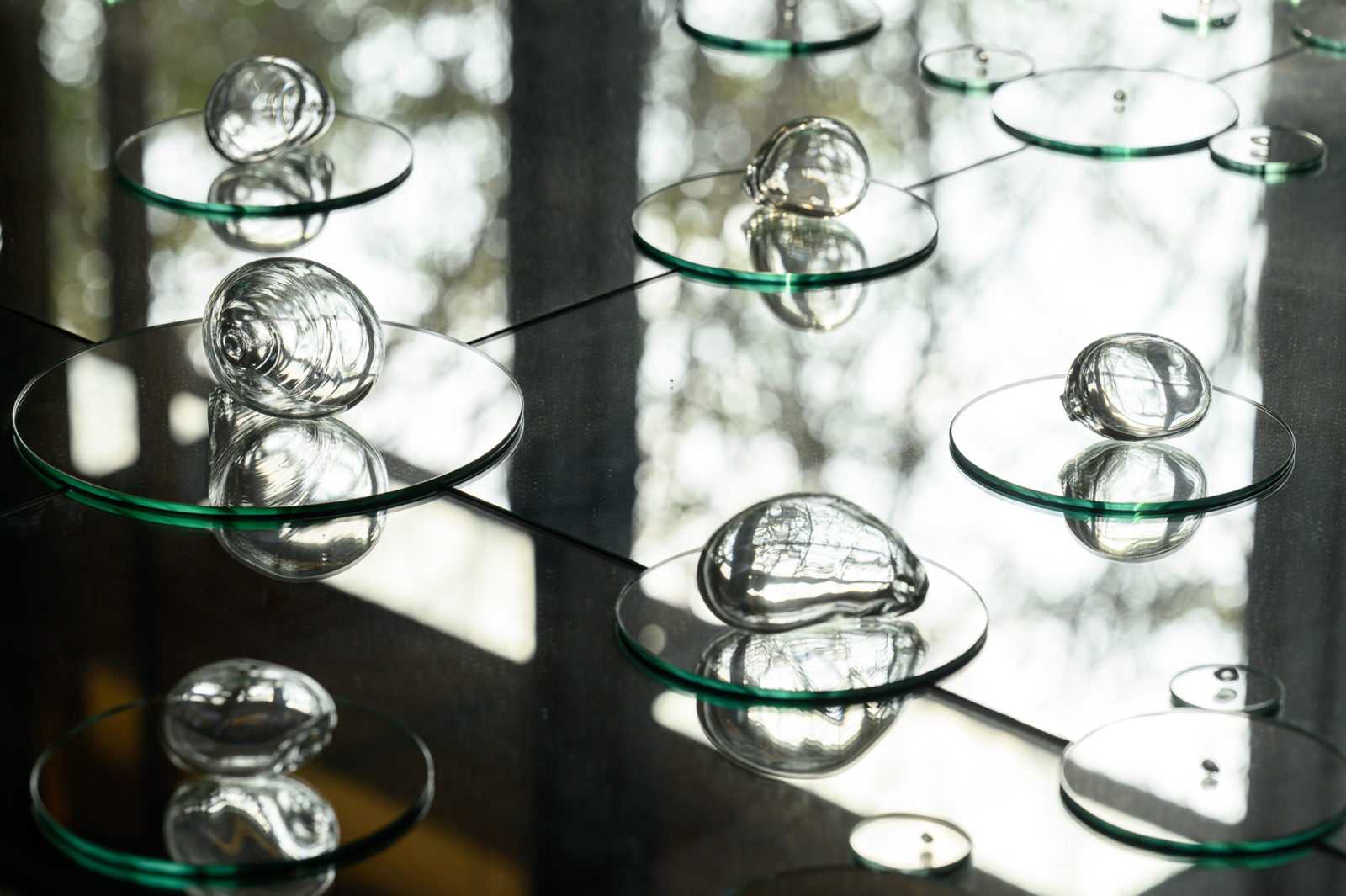 Along her journeys, Tsai encountered rural communities many of whom are under the threat of losing their livelihoods of working with natural materials and traditional crafts to hyper consumerism. As a way to honor gentler ways of working with the Earth, Tsai collaborates with craftswomen from Indonesia and Mongolia to create a body of woven and sewn mandalas. Ndewa & Hamanangu, is a series of ikat textiles made with a young weaver Nency Dwi Ratna from the island of Sumba in Indonesia through the support of curator Alia Swastika. For this ten-month project, the weaver closely followed traditional methods passed down through her mother. As a tribute to the tradition, hand-spun yarn from locally sourced cotton and plant based-dye from hand-picked native plants took the form of a local totem 'lobster' that symbolizes re-generation. Every step of the preparation follows the natural rhythms of the land. What seems to be mundane labor manifests into sacred geometries representing the interdependence of micro and macro cosmologies.
At Taichung National Theater's Art Corner, Tsai will create site-specific drawings that fills the seven by six meter large window panels of the opera house with rice paper painted with natural pigments made from vegetable dye mixed with crushed shell powder. As a durational performance, she will write the Heart Sutra on the drawing.The entire performance will be documented and published online. Additional drawings, using pigment extracts from minerals found in the cave paintings along the trade routes where Heart Sutra travelled through from India to East Asia during the Tang Dynasty, will also be exhibited at the main space.
A publication in collaboration with Zolo Press based in Brussels & Mexico City will be released in July 2021.