Lovely Daze is a journal of artists' writings and artworks published twice a year in limited editions. The eighth issue: Pilgrimage takes us through…
… a journey on the scaffolds
… a prayer with a lotus flower in hand
… a capture of the in-between
… a release of light
… a tour of Paris in red
… a parade of death & torture
… a landscape of passing memories
… a stare into a fictional space
… a spill on the ground
… a realm of melancholy
… an eclipse in colors
… a life in love & beauty
… and a walk in the forest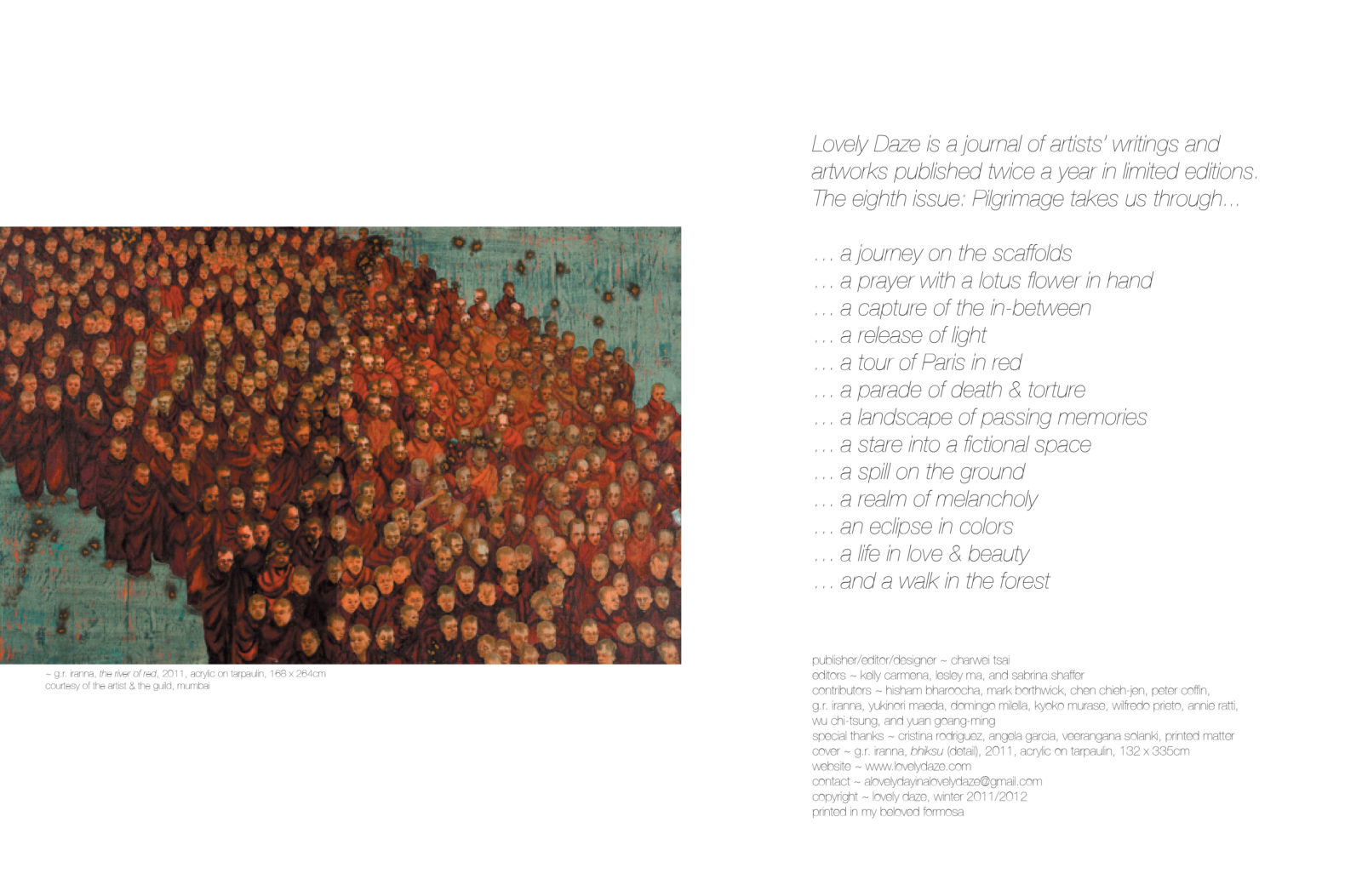 publisher/editor/designer ~ charwei tsai
editors ~ kelly carmena, lesley ma, and sabrina shaffer
contributors ~ hisham bharoocha, mark borthwick, chen chieh-jen, peter coffin,
g.r. iranna, yukinori maeda, domingo milella, kyoko murase, wilfredo prieto, annie ratti,
wu chi-tsung, and yuan goang-ming
special thanks ~ cristina rodriguez, angela garcia, veerangana solanki, printed matter
cover ~ g.r. iranna, bhiksu (detail), 2011, acrylic on tarpaulin, 132 x 335cm
website ~ www.lovelydaze.com
contact ~ alovelydayinalovelydaze@gmail.com
copyright ~ lovely daze, winter 2011/2012
printed in my beloved formosa
~ g.r. iranna, the river of red, 2011, acrylic on tarpaulin, 168 x 264cm
courtesy of the artist & the guild, mumbai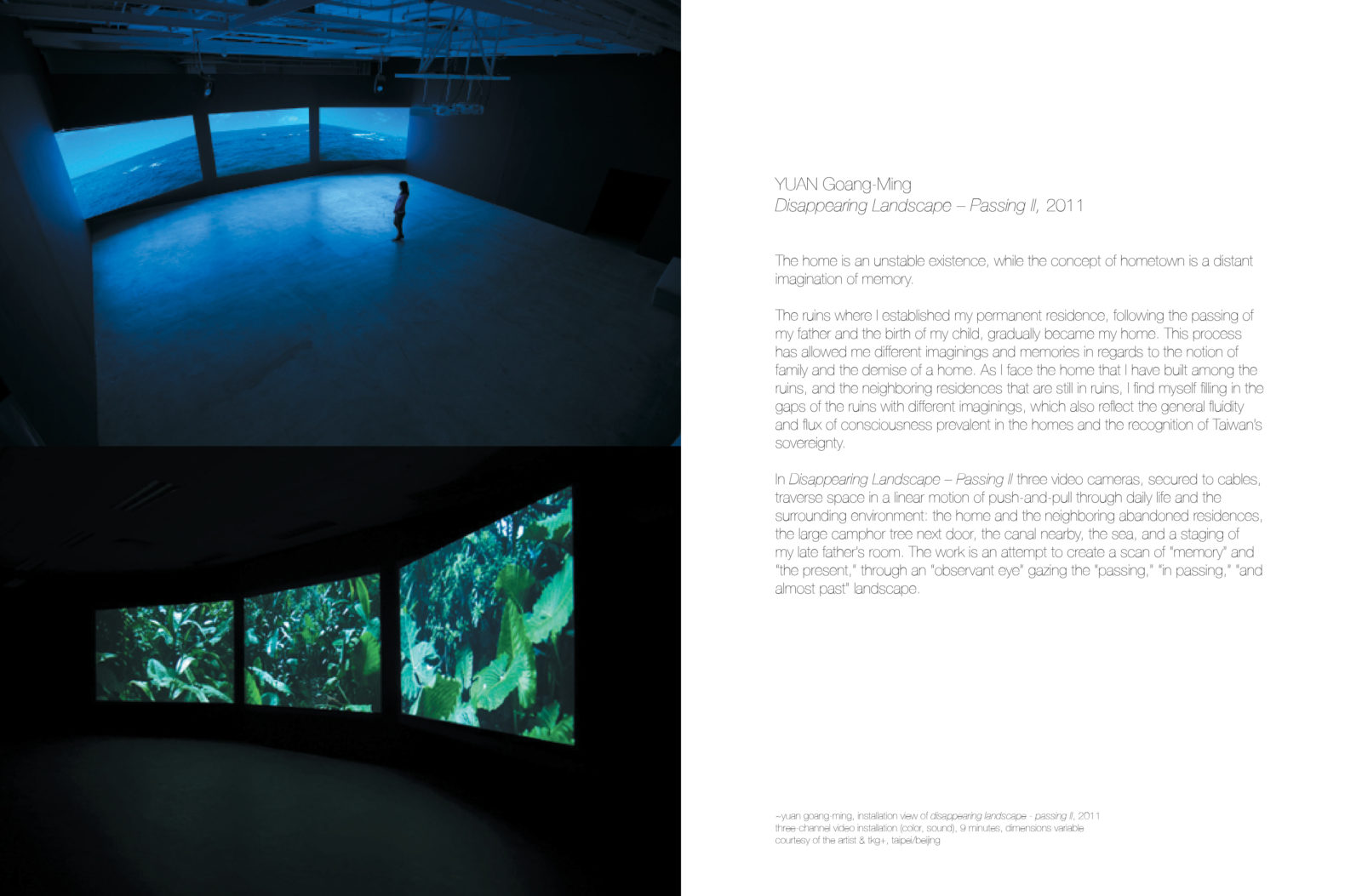 CONTRIBUTORS…
HISHAM BHAROOCHA is an artist and musician born in Niigata, Japan, and is now based in New York. Hisham concentrates on creating music, visual art, and photography. He has had solo exhibitions at D'Amelio Terras Gallery, New York, and Vleeshal, The Netherlands amongst others, and has exhibited broadly in group exhibitions at Deitch Projects, New York, John Connelly Presents, New York, and Yerba Buena Center for the Arts, San Francisco. Hisham's most recent works deal with the melting together of images that happen in the mind when one is meditating, daydreaming, or going about one's daily life. www.hishamb.net
MARK BORTHWICK /… whom some time`s perform`s under "will shine" ay no mad no man no mark, was last sean in brooklyn, spain evade`ing all ode`s to fall an fail upon ay spell his recluse to seduce invisibles ay mystery that fade`s in with modesty an ardent glow, to letting the future go, we saw him perch`t upon a tree of sensual prism`s casting spell`s in to oblivion whilst sing`s as an eruptive chant an ol` traditional from an andelalucian gypsy tribe, her`s was imaginary / blasting the clamor of in essence of uncertainty`s an elixir of light`s to shadow an serenade one`s silhouette in to an oblivion who`s an horizon rising chanting, "ya gotta get over it all" whilst perch south facing the sun, in the spring till her leaf like moon beckon`s one through the eye`s of her leave`s…
KELLY CARMENA lives and works in New York City.
CHEN CHIEH-JEN was born in 1960 in Taiwan and works with photography, film, installation, and performance to explore issues connected to globalization, in particular labor, consumerism, and migration. He makes artworks as an act of resistance… 'as an act of connection, linking together the history of people who have been excluded from the dominant discourse, the real-life situations of areas that are being ignored, and 'others' who are being isolated.' Chen has held solo exhibitions at Taipei Fine Arts Museum; Museo Nacional Centro De Arte Reina Sofia, Madrid; Asia Society, New York; and Jeu de Paume, Paris. Group exhibitions include the Venice Biennale, Biennale de Lyon, São Paulo Art Biennial, Liverpool Biennial, Biennale of Sydney, Istanbul Biennial, Taipei Biennial, Gwangju Biennale, and the Asia Pacific Triennial amongst others.
PETER COFFIN was born in 1972 in Berkeley, California; he lives and works in New York City. Coffin's projects include constructing and flying a U.F.O. over the Baltic Sea and the south-east coast of Brazil, transforming a greenhouse into a "music for plants" performance space, and designing an elaborate machine that transports a single helium balloon along what could be its own, wind-driven natural course. His work is exhibited widely including solo exhibitions at Herald Street, London (2011); Centre d'art Contemporain d'Ivry, le Credac, France (2010); Barbican Art Gallery, London; CCA Wattis Institute for Contemporary Arts, San Francisco ( both in 2009); Centre d'Art Contemporain, Fribourg, Switzerland (2008); Palais de Tokyo, Paris; The Horticultural Society of New York, New York (both in 2007) and has participated in recent group shows including Yokohama Triennale (2011); "Filling the Void" at Guggenheim, New York (2010); and Tate Triennial, Tate Britain, London (2009).
SABRINA FINLAY is spending the winter months in Asia. She is enjoying her mother's cooking, her father's lectures, working with Ryan at the factory, getting to know Sakina, a new conversation with her husband Chris in Mandarin, and last-minute dinners with Charwei. www.otabo.com www.hillsboroshoe.com
G.R. IRANNA obtained M.F.A. from Delhi College of Art. His selected solo exhibitions include Ribbed Routes, The Guild, Mumbai (2010); 'Birth of Blindness', The Stainless Gallery, New Delhi and Aicon Gallery, London, and New York. Iranna was awarded the Juror's Choice award for the ABPF Signature Art Prize 08, Singapore Museum, and the international scholarship from Charles Wallace Trust, British Council. Other selected group exhibitions include 'Roots in the Air, Branches Below: Modern & Contemporary Art from India', San Jose Museum of Art, San Jose; 'Time Unfolded', Kiran Nadar Museum of Art (KNMA), New Delhi; 'Finding India: Art for the New century', Museum of Contemporary Art, Taipei, Taiwan; Go See India, curated by Amit Mukhopadhyay and Oscar Aschan, Gothenburg, Sweden; Cultura Popular India y mas alla, la presidenta de la comunidad de Madrid Museum, curated by Shaheen Merali and Arad Biennale, Romania.
LESLEY MA has recently watched four performances by Cloud Gate Dance Theatre of Taiwan, ran two half marathons, presented at two academic conferences, and cut her hair back to the length it was in 2005 when the first Lovely Daze was launched. YUKINORI MAEDA was born in 1971 and currently lives and works in Japan. His work has been featured in: "Magic Village COSMIC WONDER Yukinori Maeda" at MU Art Foundation, Eindhoven (2005); "Space for Your Future" at Museum of Contemporary Art Tokyo (2007); "Mellow Fever" at Galerie des Galerie, Paris (2008); "Universal Love" at Taka Ishii Gallery, Tokyo (2009); "MOT Collection: Plastic Memories –Illuminating the Now" at Museum of Contemporary Art, Tokyo, (2010); "Our Magic Hour: How Much of the World Do We Know?" at Yokohama Triennale and "Echoes", Taka Ishii Gallery, Tokyo (both in 2011). The central theme of Maeda's projects has consistently focused upon the theme of "light". Maeda has exhibited installations consisting of reconstructed images of found photographs, objects, lighting systems, and sound systems linked to the wavelength of light.
www.cosmicwonder.com
DOMINGO MILELLA was born in 1981 in Bari, Italy where he lived until he was 18 years old. At that age, he moved to New York City to study photography at the School of Visual Arts (BFA 2005), where Stephen Shore was one of his teachers. He worked with Massimo Vitali from 2003 to 2010. Thomas Struth has been an influential mentor for him. Since 2001, Milella has been developing his project on the landscape. Currently, he lives and works between his hometown in southern Italy and New York. His photographs have been shown at Brancolini Grimaldi (Rome/London), Tracy Williams, Ltd. (New York City), Foam Fotografie Museum (Amsterdam), and at Les Rencontres d'Arles.
KYOKO MURASE was born in 1963 in Gifu, Japan, and currently lives and works in Dusseldorf, Germany. She completed her postgraduate studies at Aichi Prefectural University of Fine Arts and Music in 1989. She subsequently studied at Kunstakademie Dusseldorf between 1990 and 1996 and completed a Meisterschuler from Konrad Klapheck in 1993. Her major solo exhibitions include, "Sapphire" Taka Ishii Gallery, Tokyo (2010); "Fluttering far away" Toyota Municipal Museum of Art, Aichi (2010) and "Cicada and horned owl" the Vangi Sculpture Garden Museum, Shizuoka (2007).
WILFREDO PRIETO was born 1978 in Zaza del Medio, in the province of Santi Spiritu, Cuba. He graduated from the Higher Institute of Visual Art in La Habana in 2002. He has exhibited in international events such as the Biennal de La Habana in its four last editions, the Singapore Biennale (2006) and the Biennale di Venezia (2007). Prieto was a John Simon Guggenheim Fellow in 2006 in New York. He was awarded the UNESCO Prize for the Promotion of the Arts, the Premio F in Buenos Aires and the Cartier Foundation Award, with a residency at Gasworks, London, in 2008. Using absurdity as a strategy to entangle his viewer, Prieto disrupts the public space or gallery through objects and interventions, which combine humor with a critical reflection on the sociopolitical reality.
ANNIE RATTI lives and works in London. She employs different media to further her artistic vision, using video, photography, installation, sculpture, also collaborating with other artists. Her work has been exhibited in international venues such as: R.A.M. Camere XII, Rome (2010); Whitechapel Gallery, London (2009); Nuit Blanche, Paris (2008) ('The Red Balloon'); White Box, New York (2006); Kuntsthaus Bregenz (2006); 4th Seoul Media International Biennale Seoul (2006); Wijnegem Belgium (2004); Gwangiu Biennal (2004); Musee D'Art Modern, Saint Etienne (2004).
CHARWEI TSAI is in love.
www.charwei.com
WU CHI-TSUNG was born in 1981 in Taipei, Taiwan where he currently lives and works. He is fascinated by images, how they are made, and how they are seen. His works to date have mostly involved photography and video and the processes which are needed to create images. Chi-Tsung was a finalist of the Artes Mundi prize (2006), and has exhibited internationally including 'The Elegance of Silence' at the Mori Art Museum in Tokyo (2005), the 6th Shanghai Biennale (2006), "Our Future", Ullens Center for Contemporary Art, Beijing, China (2008), "The Tradition of the New" at Sakshi Gallery, Mumbai, and "Taiwan Calling" at Mucsarnok – Kunsthalle and Ludwig Museum, Budapest, Hungary (2010).
YUAN GOANG-MING was born in 1965 in Taipei, Taiwan where he currently lives and works. He holds a Bachelor of Fine Arts from the National Institute of the Arts, Taipei (1989) and a diploma in Media Arts from the Staatliche Hochschule für Gestaltung Karlsruhe, Germany (1997). His work has been included in numerous international exhibitions, including the Gwangju Biennale (1995 and 2002), the Taipei Biennial (1998 and 2002), Translated Acts (Berlin, New York, and Mexico City, 2001-02), 01.01.01: Art in Technological Times (San Francisco, 2001), Luna's Flow: The 2nd Seoul International Media Art Biennale (2002), Culture Meets Culture: Busan Biennale 2002, the Venice Biennale (2003), the Liverpool Biennial (2004), the Guangzhou Triennial (2005), the Singapore Biennale (2008), and "Taiwan Calling", at Mucsarnok – Kunsthalle, Budapest (2010)