Belief
First Singapore Biennale
Artistic Director: Fumio Nanjo
Curators: Roger Mc Donald, Sharmini Pereira, and Eugene Tan
4 September ~ 12 November 2006
Exhibited Works:
– Lotus Mantra I & II, 2006, Installations at Kwan Im Thong Hood Cho Temple
– Tofu Mantra, 2006, Installation at Tanglin Camp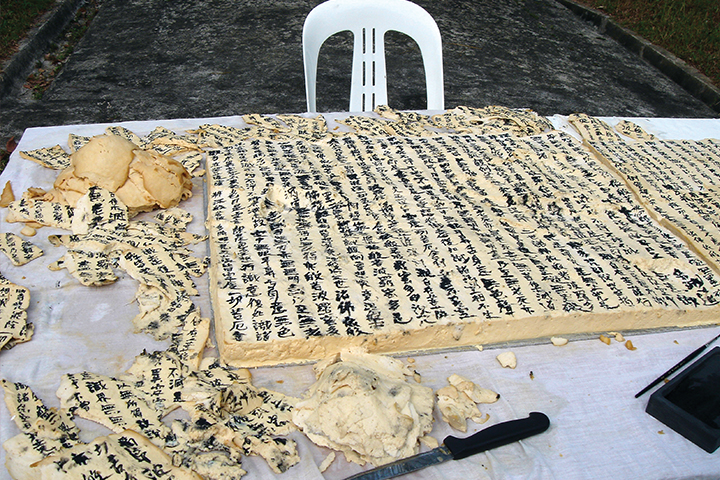 Press Release:
BELIEF is the theme for Singapore's first visual arts biennale, Singapore Biennale 2006 (SB2006). If today's world has painfully called into question many certainties governing society, history and humankind, can it also be described as an era of uncertainty in which the very subject of belief is in question? In the context of this so-called crisis of values, what do we individually and collectively believe in? Do we act on our beliefs or is belief simply a mindless act? Are the religious beliefs communicated by the great faiths more relevant than the secular beliefs in science, progress, democracy and politics that succeeded them? Or has the conflict between the two spawned such states of violent and ethical extremism in the service of religious and economic power that belief in anything appears incomprehensible? Are we beyond belief or at the threshold of its revival?
SB2006 aims to address the complexities that surround and inform some of these questions. Through a diverse selection of international contemporary art practices, including artists from Singapore and its neighbouring regions, the biennale sets out to create a reflection rather than a representation of contemporary art's relationship with the subject of belief. In turn, this process of reflection will also examine the question of belief in relation to the system of art itself. With its longstanding relationship to religious and secular systems of thought, what are the inherent values of contemporary art today?
Artistic Director Fumio Nanjo and his curatorial team will present the Biennale across a collection of venues, including museums, religious spaces, public institutions and disused buildings. Traversing the city, some of the exhibition sites will include the Kwan Im Thong Hood Cho Temple, National Museum of Singapore, Sri Krishnan Temple, The Armenian Church of St Gregory the Illuminator and Tanglin Camp. Together, these selected sites provide a local perspective onto one of the unique features that characterise Singapore, among other things, as a multi-religious and multi-cultural society, where many seemingly conflicting beliefs appear to co-exist alongside one other. Additionally, many of the chosen venues, most obviously the religious spaces, also provide a historical context through which to reflect on the critical relationship played by architecture in the construction of belief. Paradoxically, sites of religious worship in Singapore continue to draw a retinue of worshippers, whilst, the 'great temples of culture' represented by museums, remain significant, for their lack of devoted followers.
SB2006 is a culmination of the growth of Singapore's artists and achievements in visual arts at home and abroad. It highlights Singapore's prominence as an international visual arts hub, not only providing new opportunities for Singapore artists, curators and arts businesses, but also as a key enabler of exchange and collaborations for the global arts community.