Now Ink II
Curated by Art Hub Asia (Defne Ayas, Qiu Zhijie, Davide Quadrio)
SH Contemporary, Shanghai, China
6~9 September 2012
Exhibited Work:
– Bonsai Series I~IX, 2011, Hand-inscribed lithographs
– A Pilgrimage through Light & Spells, 2012, Artist's Book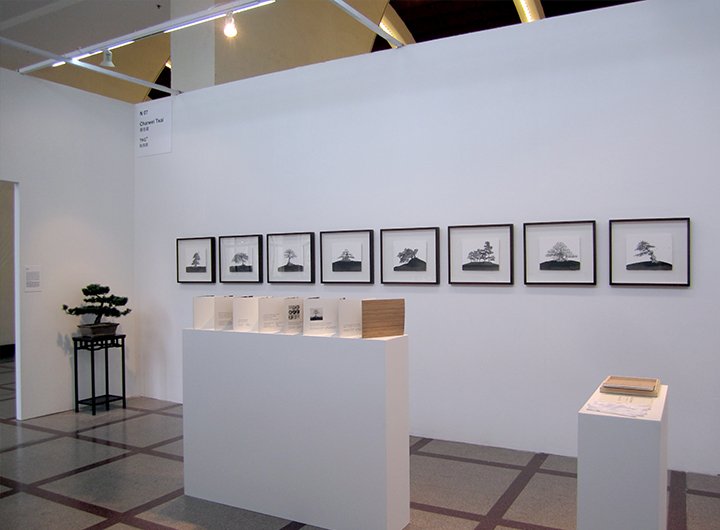 Press Release: For a second year, SH Contemporary presents an extended exhibition – curated by Arthub Asia with its extended network of curators – examining perspectives on the use of the traditional Chinese medium of ink, and the artistic processes of ink painting and calligraphy, as part of contemporary transcultural visual and performative artistic practice by eighteen Chinese and international artists.
The term "water and ink" has developed into an increasingly inclusive and scalable term, to assume a broadened definition covering new and diverse artistic forms. It is based on the skills of traditional ink paintings, modern ink paintings using water and ink as a medium, and diversified exploratory efforts beyond the limits of "brush and ink" (Bi Mo). In addition, it encompasses water and ink as a medium, not always in the literal sense of using water, ink and calligraphic brush, but rather focusing on problems within Chinese ink painting traditions, taking them forward in other contemporary media formats, such as, in this exhibition through live performance, performance on stage and as a process of ritual, intervention of space, participatory practice and the documentation of performative action.
Another key focus of the exhibition is the relationship between East and West, looking directly at the process of transcultural translation as to how Chinese and international artists re-interpret and re-appropriate Chinese ink art in Western contexts, whilst it is re-negotiated in its original cultural contexts of China and the cultures of East and South Asia.
The future of Chinese ink art lies not only in the continuation of "brush and ink" (Bi Mo) skills, the preservation and documentation of water and ink as a medium, and the enrichment they provide in terms of artistic contexts, but also, more importantly in the exploitation of the yet untouched traditions and resources of Chinese painting. By experimenting freely with new media and contemporary means of expressions, Chinese ink art is enabled to break free from the traditional frameworks and cultural infrastructures, and in turn develop new modes of artistic enquiry and discourse as part of contemporary art history. In a similar spirit to what is found in contemporary Chinese ink art practice, the artists featured in the India Focus of this edition of SH Contemporary section leverage new technology and insight to question the use of ink and suggest new possibilities for its future potential.
This year Arthub Asia invited curators and scholars Xiang Liping, Rachel Marsden, and Diana Campbell to join Davide Quadrio, Defne Ayas and Qiu Zhijie to help realize this extensive exhibition.