Root of Desire
2018
HD video, color with sound, 7 minutes 8 seconds
Commissioned by UCLA Confucius Institute for Dunhuang Projected,
China Onscreen Biennial
Mañjuśrī: What is the root of desire and attachment?
Vimalakīrti: Unreal construction is the root of desire.
Mañjuśrī: What is the root of unreal construction?
Vimalakīrti: False concept is its root.
Mañjuśrī: What is the root of false concept?
Vimalakīrti: Baselessness.
Mañjuśrī: What is the root of baselessness?
Vimalakīrti: Mañjuśrī, when something is baseless, how can it have any root?
Therefore, all things stand on the root which is baseless.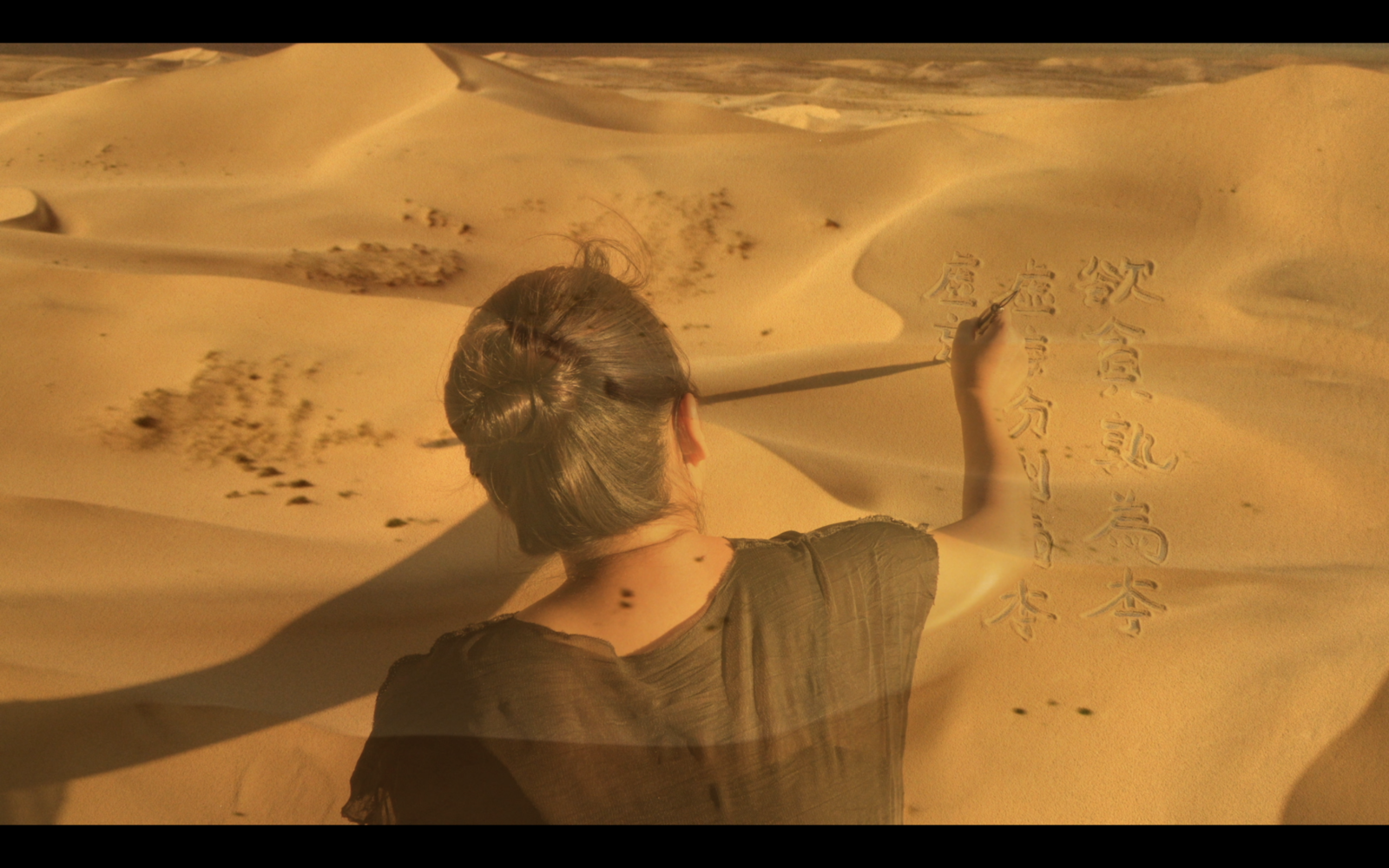 The discourse on the root of desire between Vimalakīrti and Mañjuśrī from the renowned Buddhist text, Vimalakīrti Sutra, inspired me to make this work. It begins in a vast landscape of the Mongolian region of the Gobi Desert. Nothing seems to be alive here except for the elements of fire from the sun, the wind and the earth. The artist enters the frame and inscribes the conversation by heart on the sand. Rays of light radiate through the negative space of each character and slowly uncovers a stainless mirror buried underneath. The scene is overlaid with projections of endless deserts and a figure who appears to be deeply lost from within. When the artist finishes writing and the wind disperses the sand back into the earth and the text disintegrates. The film ends with flower petals thrown into the air in joy as the now empty mirrored surface reveals an open sky.
Captions:

Root of Desire, 2018, HD video, color with sound, 7'8"
In collaboration with Khoroldorj Choijoovanchig
Commissioned by UCLA Confucius Institute for Dunhuang Projected, China Onscreen Biennial