Lovely Daze is a curatorial journal of artists' writings and artworks published twice a year in limited editions. The sixth issue: "A rose is a rose is a rose is a rose", inspired by Gertrude Stein's quote, is a dedication to femininity and friendships. Chapters are chronicled by months, based on the cycle of the moon.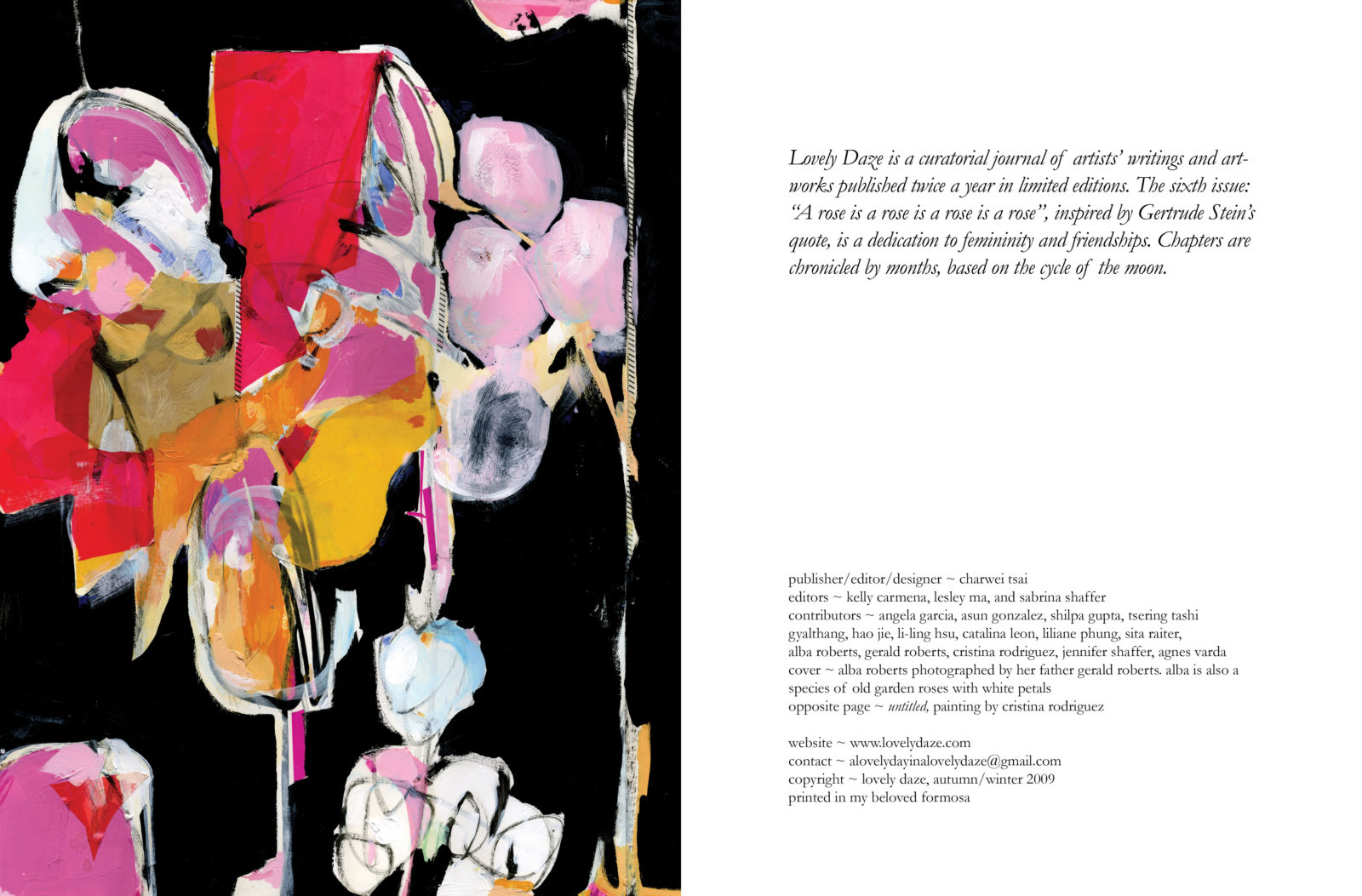 publisher/editor/designer ~ charwei tsai
editors ~ kelly carmena, lesley ma, and sabrina shaffer
contributors ~ angela garcia, asun gonzalez, shilpa gupta,
tsering tashi gyalthang, hao jie, li-ling hsu, catalina leon, liliane phung, sita raiter, alba roberts, gerald roberts,
cristina rodriguez, and jennifer shaffer cover ~ alba roberts photographed by her father gerald roberts.
alba is also a species of old garden roses with white petals. opposite page ~ untitled, painting by cristina rodriguez
copyright ~ lovely daze, autumn/winter 2009
printed in my beloved formosa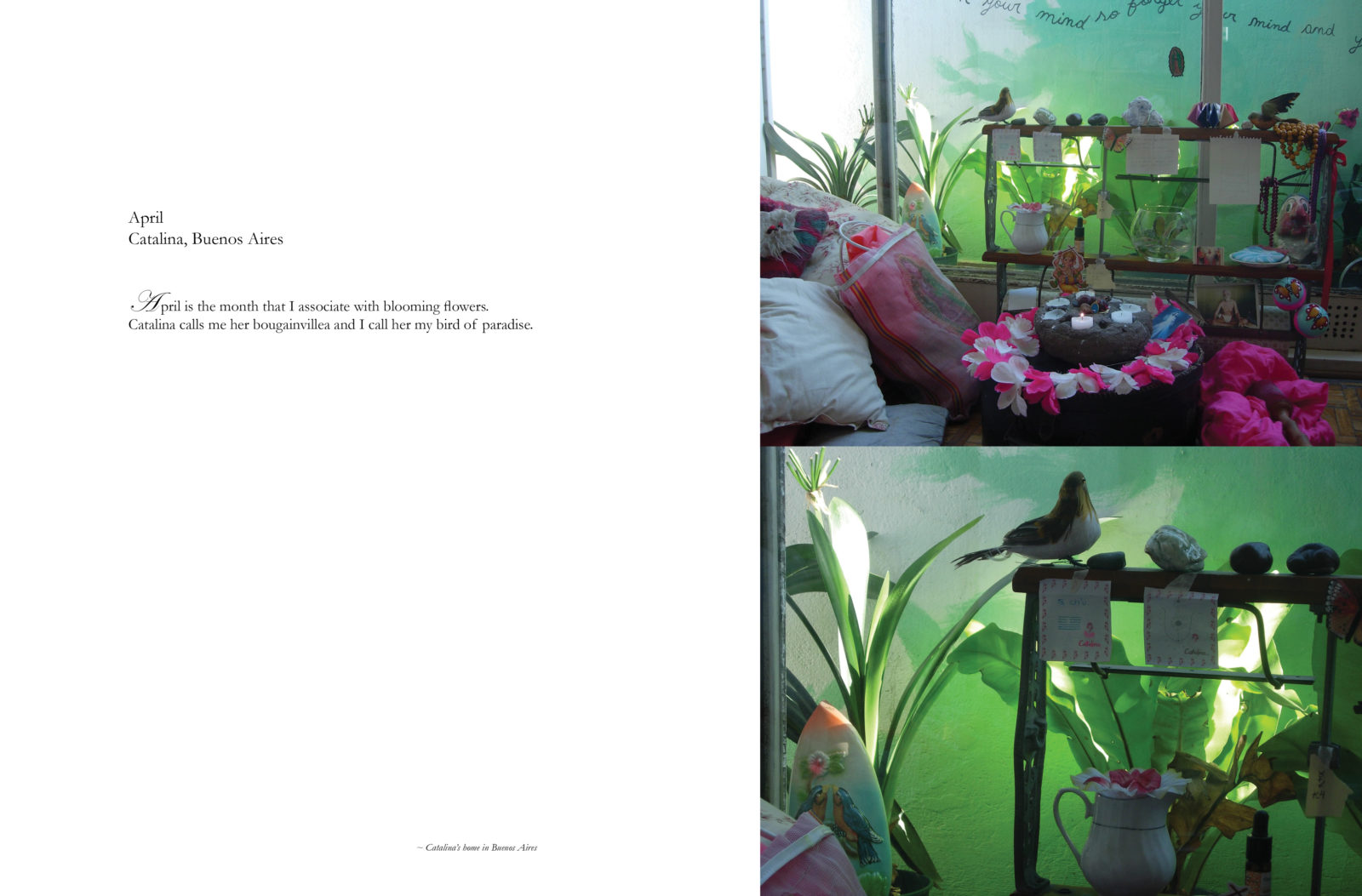 CONTRIBUTORS & MUSES…
KELLY CARMENA lives and works in New York City.
ANGELA GARCIA was born in Colombia in 1980. She graduated from l'Ecole Supérieure des Arts Culinaires de Paul Bocuse in Lyon, France with the Grand Diplome (Major de Promotion). Angela further cultivated her technique under the direction of such chefs Alain Ducasse (Paris and New York), Pascal Barbot (Paris), Cristophe Moret (Paris), Carlo Cracco (Milan), Pascal Molines (Lyon), Claus Weitbrecht (Lyon), Christophe Canati (Saint-Émilion). Inspired by the concept of Lovely Daze, Angela launched her own company, Lovely Daze Desserts in Miami.
ASUN GONZALEZ was born Spanish but with aerial roots. Mathematics, public relations, and jewelry are the few different fields explored by this unsettled mind. Asun is the mother of Alba Roberts and makes Charwei drool to think about her cooking. Charwei has never experienced such intelligence, creativity, humor, and love at a dinner table, perhaps with the exceptions of the Shaffer's and her grandmother's.
SHILPA GUPTA was born in 1976 and currently lives and works in Mumbai where she has studied sculpture at the Sir J. J. School of Fine Arts. Shilpa's works utilize interactive video, websites, objects, photographs, sounds and public performances to probe and examine subversively such themes as desire, religion, and notions of security on the street and on the imagined border. Her works have been widely exhibited in leading international institutions and biennales. In 2004, she received the Transmediale Award in Berlin and the Sanskriti Prathisthan Award in New Delhi. Upcoming exhibitions include a solo show at Contemporary Art Center in Cincinnati in February 2010.
www.flyinthe.net
TSERING TASHI GYALTHANG was born in India and spent his early childhood with his uncle at the Dalai Lama's monastery in Dharamsala. After winning a contest from Microsoft, he moved to the US in 1997. In 2003, he saw a film from Vietnam and decided to move there. He started a film and animation studio in Saigon and has been living there since. Haoao Jie is a professional caretaker (nanny and chef) specializing in zuo yue zi. She travels from household to household each month to prepare for the 30-day traditional Chinese ritual including special diet and care for the mother and her newborn.
LI-LING HSU received a Ph. D. from Ecole Pratique des Hautes Etudes, Sorbonne in Paris with a focus on religion and ceremony and is currently based in Taiwan. She is the author of several books including: "The Song of Path to Shamanism" (2003) and "Eagle's Feather" (2008).
CATALINA LEON was born in Buenos Aires in 1981. She decided to take painting seriously in 1998 and took various courses until 2002 when she strated studying with painter Mariana Lopez. During 2003-5, she received a scholarship, "Beca Kuitca" given by Gullermo Kuitca to study with him. Her solo exhibitions include: "Convertidas En Perlas Mis Lágrimas Brotan Del Mar" (2004) at Alberto Sendros Galeria; and "Cruz Imaginal" (2008) at Daniel Abate Galeria, both in Buenos Aires. Her group exhibitions include: "J'en Reve", Cartier Foundation (2005) in Paris; "Rendez-vous 2008", MAC Lyon; "Lost for Life" (2009) in Museum of Art in the Americas in Miami; and "¿Porqué Pintura?" (2009) in Fondo Nacional de las Artes, Buenos Aires. She received the Petrobras Award for her installation: "Patio o pintura para piso y plantas" (2007). Her work is in various national and international collections, including a recent acquisition by MALBA (Museo Nacional de Bellas Artes) in Buenos Aires.
LESLEY MA is excited to start a new chapter of her life as she will be a Ph. D. student in Art History, Theory, and Criticism at the University of California at San Diego in the fall 2009. She thanks her friends, family, and New York for the inspiration throughout the past six years. www.tastingsalon.com
LILIANE PHUNG graduated in 2005 from Ecole Nationale Superieure des Beaux Arts. Her solo exhibitions include: "Dairy Queen et Declin", Fat Galerie, Paris (2008); "The Lickin' that Doesn't Hurt", Allsopp Contemporary, London (2007) and group exhibitions include: "J'en Rêve", Cartier Foundation, Paris (2005); "Lil' Kings", L'Ecole des Beaux Arts, Paris (2005); "Les Beaux Arts Prennes Le Metro Station Pyramide", Paris (2005); "Carpenter's Workshop", Galerie Alain le Gaillard, London (2005); and "Downtown to Downtown", L'Ecole des Beaux Arts, Geneva (2005).
SITA RAITER was born in Santa Barbara, California, and currently lives and works in Saigon. Her drawings are packed with small details and repeating patterns and she sees the drawing process as a form of meditation.
ALBA ROBERTS is half Spanish, half Australian, and enjoys mingling antipodes. Her interests include travels, studies, food, and the wish of learning every day.
GERALD ROBERTS is Australian but European by heart. Lately, he is pretending that the world is a line.
CRISTINA RODRIGUEZ is a Colombian artist based in Little Havana, Miami. She was born in Bogota in 1980, on her father's birthday in February. She received a BFA in Industrial Design from Rhode Island School of Design and Fashion Design at Parsons the New School for Design. Cristina is currently experimenting with large-scale paintings and drawings.
JENNIFER SHAFFER learned traditional Taiwanese, Chinese, and Japanese cooking growing up in her mother's kitchen. She is self-taught in Western cooking – namely German, French and Italian – and continues to explore various culinary cultures and traditions. Having her own family established her the important role that food plays in lifestyle and family. Her children Ryan and Sabrina, and her husband Howard are grateful for this. She continues to explore all the different traditions of cooking, especially when she travels to a new place. She believes that food takes a big part in a lifestyle, if not the most important part.
SABRINA SHAFFER is living the better part of this year at the beach where she spent her childhood summers. She hugs and kisses her mother every day, misses her father and her brother Ryan while they are working overseas, and thinks of Charwei when collecting seashells.
www.otabo.com
www.christopherbevans.com
CHARWEI TSAI is actually straight.
www.charwei.com
AGNES VARDA was born in 1928 to a Greek father and French mother and currently lives in Paris. Her films, photographs, and art installations focus on documentary realism, feminist issues, and social commentary — with a distinct experimental style. Her films include: La Pointe Courte (1956); Cleo 5 to 7 (1962); Happiness (1965); Vagabond (1985); The Gleaners and I (2000); and The Beaches of Agnes (2008) and her artworks are exhibited widely including MoMA, New York (1997); Cartier Foundation, Paris; SMAK, Gent (2006); and 10th Biennale de Lyon (2009).
www.cine-tamaris.com
~ special thanks: (asia-pacific) family, especially takehiro + his mom + dad, lots of aunts + uncles + cousins, sarah + family, irene + baby, joyce + family, bebe, ronnie, jason, mandy, mier, yulin jie, jesse, pao-lin, ali, heather, eugene, rudy, agnes, andre, suhanya + team, gene + brian + team, shilpa, taka, jeffrey, elisa, nahoko, alisa, tig + sora staff, doggie. (us) sub, mr. & mrs, shaffer, ryan, lesley, kelly m, kelly c, tina, naoto, angelita + family, cristina, ani, maria, aoi, terresa, duke, erica, eugene, yonatan, jason, chris liu, ido, leif, pat, alex, shunyi, nigel, mingwei, john, vicson, linda, dunbar, arron, hisham, julien, mark, pete, willow, cai + family + studio, bridget, printed matter staff, aa, max, cat, james, peter, fiona + papabubble. (europe) grigoris + family, su-mei, jean-lou, lili, nico, alba, asun, gerry, valentine, george, shing, kahn, pablo, pier, albi, alessandra, guillaume, julie, herve, grazia, jean d l, ariane, m-o, virginie, aurelie, joanna, gilles, claude, louis-albert, tony, vincent. (latin america) catalina, barbie, federico, thiago, mateo, rosario, cata c, natalia.