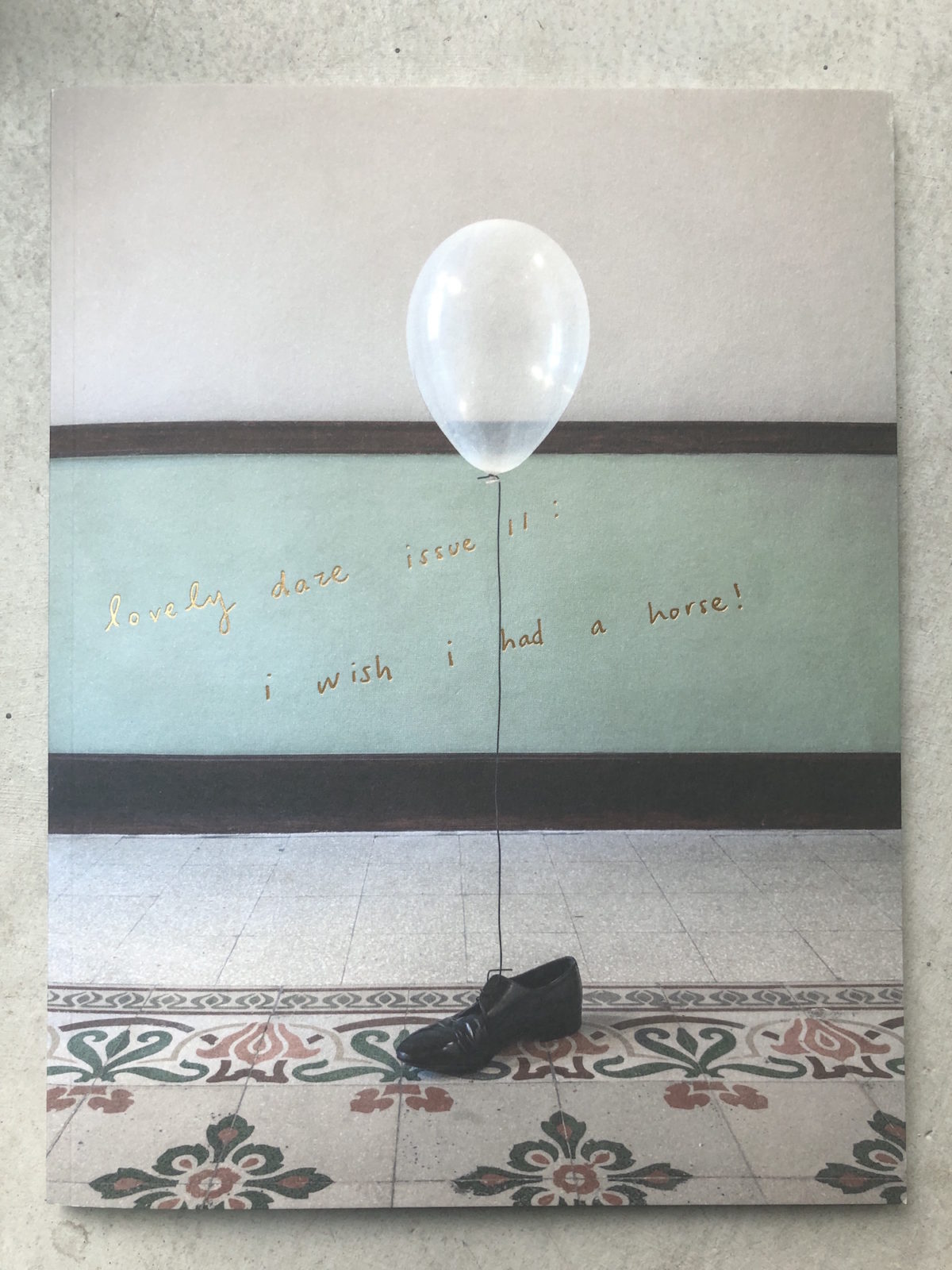 Selected pages from Lovely Daze Issue 11 – I Wish I Had a Horse!
Lovely Daze is a curatorial journal of artists' writings & artworks published in limited editions. Issue 11: I Wish I had a Horse! is prompted by the title of a Mongolian popular song where the horse is recognized as a source of empowerment and a connection to nature.
publisher/editor/designer ~ charwei tsai
editors ~ kelly carmena, sabrina nlay, and lesley ma
contributors ~ aa bronson, munkhtsetseg jalkhaajav, dane mitchell, otobong nkanga, emeka ogboh, gala porras-kim, thiago rocha pitta, wilfredo prieto, arco renz, ganzug sedbazar, taro shinoda, chrysanne stathacos, davaajargal tsachikher, and su-mei tse
muse ~ peter sellars
special thanks ~ cristina rodriguez, angela garcia, shormi ahmed, francesca borgonovo, and sharjah art foundation
cover ~ wilfredo prieto, sublime lace, 2019
website ~ www.lovelydaze.net
contact ~ alovelydayinalovelydaze@gmail.com
copyright ~ lovely daze, 2020
printed in my beloved formosa
CONTRIBUTORS
AA BRONSON was born in 1946 in Canada and currently lives and works in Berlin. In 1966, he left university and founded a free school, a commune and an underground newspaper in collaboration with his friends. This led him into an adventure with gestalt therapy, radical education, and independent publishing. In 1969 he formed the artists' group General Idea in Toronto with Felix Partz and Jorge Zontal. In 25 years they undertook over 100 solo exhibitions, numerous group shows and temporary public art projects. They were well-known for their magazine FILE (1972-1989) and their early involvement in punk, queer theory, AIDS activism. In 1974 they founded Art Metropole, Toronto, a distribution centre and archive for artists' books, audio, video, and multiples. In 1986, the trio relocated to New York City and worked through to the death of his partners in 1994. Since the late 90s, AA worked as a solo artist, often collaborating with younger artists. From 2004 to 2010, he was the Director of Printed Matter, Inc. in New York City, and founded the annual NY Art Book Fair in 2005. In 2009, he founded the Institute for Art, Religion, and Social Justice at Union Theological Seminary in New York City. In 2013, he was the founding Director of Printed Matter's LA Art Book Fair. His exhibition The Temptation of AA Bronson at Witte de With Centre for Contemporary Art, Rotterdam, won the 2014 AICA Netherlands Award for best exhibition. In recent years, he has had exhibitions at the Salzburger, Grazer Kunstvereins, Art Unlimited Basel, Esther Schipper and KW Institute for Contemporary Art. He holds many awards and three honorary doctorates. In 2008, he was made an Officer of the Order of Canada, and in 2011, he was named a Chevalier de l'ordre des arts et des lettres by the French government.

https://aabronson.com
KELLY CARMENA lives and works in Los Angeles. She is the director of the Philosophical Research Society in Los Feliz.
https://prs.org
SABRINA FINLAY has a beautiful, bravely curious little girl named Ava.
https://otabo.com
MUNKHTSETSEG JALKHAAJAV was born in 1967 in Ulaanbaatar, Mongolia. Munkhtsetseg's work explores her childhood experiences, Mongolian traditional medicine, the wisdom of tales and legends, and the power of nature. The new freedom in her country led her to express her emotions through the description of women. More specifically, she worked on artistic works inspired by female anatomy with references to Mongolian concepts. Her work has been exhibited internationally at Palazzo Bembo, Venice, Italy; Fukuoka Asian Art Museum, Japan; Luxe Museum, Singapore; China Art Museum, Shanghai, China; Schoeni Art Gallery, Hong Kong; and Art Space 976+, Ulaanbaatar, Mongolia.
http://artbayarmugi.com/mugi
LESLEY MA is the curator of Ink Art at M+, Hong Kong. She is excited about the new decade, many new beginnings, and the 15th year of Lovely Daze.
DANE MITCHELL was born in 1976 in New Zealand and currently works between Auckland and Berlin. His practice is concerned with the physical properties of the intangible and visible manifestations of other dimensions. His work teases out the potential for objects and ideas to be present, evoking a connection between the sensual and the conscious. Mitchell's practice speculates on what is material and explores experiences of systems of knowledge or belief. His exhibition history dates back to 1999; since 2008 he has held 30 solo exhibitions and participated in more than 50 group exhibitions. He has presented solo exhibitions in institutions in New Zealand, France, Germany, Brazil, The Netherlands, Switzerland, Hong Kong, Australia, and the United States. He has also participated in a number of biennales, including representing the New Zealand Pavilion at Venice Biennale (2019); Biennale of Sydney (2016); Gwangju Biennale (2012); Liverpool Biennial (2012); Singapore Biennale (2011); Ljubljana Biennale (2011); Busan Biennale (2010); and the Tarrawara Biennial (2008).
http://danemitchell.co.nz
OTOBONG NKANGA was born in 1974, Kano, Nigeria. She currently lives and works in Paris and Antwerp. Nkanga began her art studies at the Obafemi Awolowo University in Ile-Ife, Nigeria and continued at the Ecole Nationale Supérieure des Beaux-Arts, Paris, France. She was at the residency program at the Rijksakademie van beeldende kunsten, Amsterdam, The Netherlands. In 2008 she obtained her Masters in the Performing Arts at Dasarts, Amsterdam, The Netherlands. She has exhibited widely internationally. Recent shows include: I Am A Native Foreigner at the Stedelijk Museum, Amsterdam (2017); Manipulate the World at the Moderna Museet in Stockholm (2017) and To Dig A Hole That Collapses Again at the Museum of Contemporary Art in Chicago (2018), Artis Mundi in Cardiff (2019), May You Live In Interesting Times at Biennale di Venezia (2019). She participated in the Sharjah, Taipei, Dakar, Venice, São Paulo and Havanna Biennials. She has been awarded with the 2015 Yanghyun Prize and the 2017 Belgian Art Prize. In 2019, She was the recipient of the Ultimas-Flemish prize for culture, and of Sharjah Biennial Prize and she received a special mention at the 58th Biennale di Venezia for her ongoing and inspired exploration across media into the politics of land, body and time.
http://otobongnkanga.com
EMEKA OGBOH was born in 1977, Enugu, Nigeria. He currently lives and works between Lagos and Berlin. Ogboh produces audio installations and gastronomic works, exploring how private, public and collective memories and histories are translated, transformed and encoded into sound and food. His works contemplate how sound and food capture existential relationships, frame our understanding of the world and provide a context for critical questions on immigration, globalization, and post-colonialism. Ogboh's work has been shown in solo exhibitions at The Power Plant Contemporary Art Gallery, Toronto (2018); Imane Fares Gallery, Paris (2018); Tate Modern, London (2017); Staatliche Kunsthalle Baden-Baden, Gallery (2017); Ludlow 38, New York (2016); Smithsonian National Museum of African Art, Washington, DC (2016); Modern Art Museum, Gebre Kristos Desta Center, Addis Ababa (2016) and ifa-Galerie Berlin (2015), among others. His work has also been featured in recent group exhibitions at the Museum für Moderne Kunst, Frankfurt (2018); Dakar Biennial (2018); Monument Lab, Philadelphia (2017); documenta 14 (2017); Skulptur Projekte 2017, Münster (2017); Galerie des Galeries, Paris (2017); Oslo Architecture Triennale (2016); SAVVY Contemporary, Berlin (2016) and Le FRAC Centre-Val de Loire, France (2016).
http://14thmay.com
GALA PORRAS-KIM was born in 1984, Bogotá, Colombia and currently lives in Los Angeles. She is a multi-disciplinary artist whose work questions how knowledge is acquired and tests the potential of the art object to function as an epistemological tool outside of its traditional, art historical context. She received an MFA from the California Institute of the Arts and an MA in Latin American Studies from the University of California, Los Angeles. She curated the exhibition Open House: Gala Porras-Kim at Museum of Contemporary Art (LA MoCA), Los Angeles (2019) and has had solo exhibitions at the Headlands Center for the Arts, Sausalito (2018) and LABOR, Mexico City, Mexico (2017). Selected group exhibitions include Ural Industrial Biennial, Whitney Biennial, Palazzo Ca'tron, Venice, Italy, Pinchuk Art Centre, Kiev, Ukraine (all in 2019), Tina Kim Gallery, New York (2018); FRAC Pays de la Loire, Carquefou, France; Hab Galerie, Nantes, France; Seoul Museum of Art, Seoul, South Korea; Serpentine Gallery, London, UK; Los Angeles County Museum of Art (all in 2017); Hammer Museum, Los Angeles (2016); Triangle France, Marseilles, France (2015); and La Central, Bogotá, Colombia (2011). Porras-Kim is the recipient of the Radcliffe Fellowship for Advanced Study at Harvard University (2019), Artadia Award (2017), the Rema Hort Mann Foundation grant (2017), Joan Mitchell Foundation Award (2016), Creative Capital grant (2015), Tiffany Foundation Award in 2015, and the California Community Foundation Fellowship (2013).
THIAGO ROCHA PITTA was born in 1980, Tiradentes and currently lives and works in
São Paulo and Rio, Brazil. Rocha Pitta's diverse practice is fascinated with the subtle transformations of the world around him—the slow erosion and alteration of desert terrain, the descent of a fog and the fluctuations of underwater formations. His installations, videos, and paintings have captured the vibrancy of a living planet by training the viewer's eye on the slow transformation of materials, the physical progressions of tiny particles of a land, and the sudden shifts in the weather. The artist has held solo exhibitions at Museu de Arte da Pampulha, Belo Horizonte, Brazil (2002); Arts Initiative Tokyo, Japan (2008); Meyer Riegger, Karlsruhe, Germany (2009); Parque Lage, Rio de Janeiro, Brazil (2010); Solo Projects, ARCO Madrid, Spain (2011); Centro Cultural Banco do Brasil, Rio de Janeiro, Brazil (2011); Andersen's Contemporary, Copenhagen, Denmark (2012); Chiesa di Santa Maria Incoronata and the Gluck50 Gallery, both in Milan, Italy (2013); Galeria Millan, São Paulo, Brazil (2005, 2008, 2011, 2014 and 2018); and Marianne Boesky Gallery, New York, USA (2017), among others. Notable group exhibitions include: J'en Rêve at Fondation Cartier pour L'art Contemporain, Paris, France (2005); A Time Frame at PS1-MoMa, New York, USA (2006); Nova Arte Nova at Centro Cultural Banco do Brasil, Rio de Janeiro, Brazil (2008); The Travelling Show, Galería Fundación/Colección Jumex, Mexico City, Mexico (2009); 30th Bienal de São Paulo, Brazil; The Garden of Forking Paths Sculpture Project, Migros Museum Für Gegenwartskunst, Zurich, Switzerland (2012); and the 5th and 9th editions of the Mercosul Biennial, Porto Alegre, Brazil (2005, 2013).
WILFREDO PRIETO was born in 1978 in Sancti Spíritus, Cuba. He currently lives and
works in Havana, Cuba. Characterized by an almost shocking simplicity, Prieto's sculptures and installations function as tools for exploring social and political issues with a poetic sensibility. He studied at the Instituto Superior de Arte in Havana from 1998 to 2002. He was a member of the artist collective Galería DUPP (Desde Una Pragmática Pedagógica). He has participated in biennials such as the 12th Istanbul Biennial, Turkey (2011); the 54th and the 52nd Biennale di Venezia, Italy (2011 and 2007); the XIth Bienal Internacional de Cuenca, Ecuador (2011); the 11th Lyon Biennial, Lyon, France (2011); the 29th Sao Paulo Biennale (2010); the la XII, XI, X, VIII y VII Habana Biennials, Cuba (2015, 2012, 2009, 2003). Notable exhibitions include: Error de sistema, Museo de Arte Contemporáneo del Zulia, Maracaibo, Venezuela (2015); Ping-pong cuadrícula, Museo Nacional de Bellas Artes, Havana, Cuba (2015); Speaking Badly about Stones. S.M.A.K, Ghent, Belgium (2014); Dejándole algo a la suerte, Sala de Arte Público Siqueiros, Mexico City, Mexico (2012); Balancing the Curve, Pirelli HangarBiccoca, Milano, Italy (2012); Amarrado a la pata de la mesa, CA2M, Madrid, Spain (2011); Izquierda/Derecha, Museo de Arte Contemporáneo de Vigo (Marco), Vigo, Spain (2011); A moment of silence, Artists Web Projects, Dia Art Foundation, New York, United States (2007); Mute, McMaster Museum of Art, Hamilton, United States (2006); Dead angles (Lost bills), Kadist Art Foundation, Paris, France (2006).
ARCO RENZ is the artistic director of Brussels-based dance company Kobalt Works, creating choreographies in Europe and Asia. As a choreographer, director, dancer, curator, dramaturge, and tutor he is engaged in projects of very different nature in diverse locations such as Indonesia, Cambodia, Vietnam, Philippines, Laos, Singapore, Taiwan, Korea, and Japan. Renz' choreographic body of work particularly looks at the intersection of research, exchange and performance. Since 2001, he has created a profuse oeuvre of choreographies in Europe and Asia, as well as commissioned works for Opera Houses and institutional companies around the world. His productions are conceived as ongoing processes that evolve around the central concept of Abstract Dramaturgy. His performances reveal an intense physicality to explore the emotional force of abstraction. A central focus within Renz' specific choreographic idiom is the comparative study of traditional performing arts, in particular of Asia and Europe. Monsoon, a series of research and performance platforms bringing together Asian and European artists, is an ongoing project with editions in Asia, Europe and Australia. Renz studied dance, theatre, and literature in Berlin and Paris before joining the first generation of P.A.R.T.S. in Brussels.

http://kobaltworks.be
GANGZUG SEDBAZAR was born in 1978 in Mongolia. After the collapse of socialist system in 1990, his generation or artists enjoyed the greatest artistic freedom in their practice in Mongolia. As a child, Sedbazar has experienced a period of turmoil as Mongolia went through economic, social and ecological change. This experience influences and informs his artistic practice deeply. His work has been exhibited at Ulaanbaatar international Media Art Festival", MN17 Art Gallery Ulaanbaatar (2019); Bogd Khan Palace Museum, Ulaanbaatar; Teahwa River Eco Art Festival, Ulsan, South Korea, IS/ISLAND at Kuandu Museum of Fine Art, Taipei, Taiwan (2018); 56th Venice Biennale (2015). He received a Special Award at the Land Art Biennial, Mongolia (2014).
TARO SHINODA was born in 1964, in Tokyo where he is currently based. He started his career as an artist after training in landscape gardening school. In considering the theme of understanding the universe (including cosmic space) as a nature in process of evolution, in which nature coexists with human activities, Shinoda has been creating sculptures and installations that require highly technical and manual sculpture-making skill. His solo exhibitions have included the Isabella Stewart Gardner Museum, Boston, (2009); REDCAT, Los Angeles (2005), and the Hiroshima Museum of Contemporary Art (2002). He has participated in international exhibitions including Garden of Earthly Delights at Gropius Bau, Berlin (2019); Sydney Biennale (2016); Sharjah Biennale (2015), Sensing Nature at Mori Art Museum (2010), Istanbul Biennial (2007), Busan Biennale (2006) and Yokohama Triennale (2001).
CHRYSANNE STATHACOS was born in 1951 of Greek, Canadian and American origin.
Her work encompasses printmaking, textiles, painting, installation, and conceptual art. Stathacos is heavily involved with and in uenced by feminism, Greek Mythology, eastern spirituality, and Tibetan Buddhism; all of which inform her current artistic practice. Stathacos has exhibited at museums and galleries internationally over the past 30 years, including Oracle Drawings, Documenta 14, Athens; The Breeder, Athens; KW Institute for Contemporary Art, Berlin; Witte de With Centre for Contemporary Art, Rotterdam; The Power Plant, Toronto; Thread Waxing Space, New York; Participant Inc, New York, Andrea Rosen Gallery, New York; Fiendish Plots, Lincoln, Nebraska, and The Wish Machine exhibited at Grand Central Station under the auspices of Creative Time Inc. She has received grants from the Art Matters Foundation, the Japan Foundation, the Canada Council for the Arts, and the Adolph & Esther Gottlieb Foundation, among others. In 2019, Stathacos had exhibitions at The Sculpture Park, Madhavendra Palace, Nahargarh Fort, Jaipur, India and at Cooper Cole, Toronto. She also presented in the research convening In The Present Moment at the Art Gallery of Victoria and the University of Victoria.
https://chrysannestathacos.com
DAVAAJARGAL TSACHIKHER was born in 1988, Ulaanbaatar, Mongolia. He is a singer of the Mongolian rock band named Mohanik, composer, sound and visual artist. His work has had a profound in uence on the development of sound art and contemporary music in Mongolia. Mohanik at Amarbayasgalant (2013), the second album of his band, was inspired by Mongolian traditional melodies and modern rock elements combined with Nomadic philosophy. Mohanik has been invited to numerous music festivals and shows in Mongolia, Russia, China, Korea and Japan. Davaajargal started to experiment with sound compositions and sound installations since 2012. His work has been exhibited in Taipei, Netherlands and Mongolian pavilion at the 57th Venice Biennale (2017). Additionally, he is one of the founding members of contemporary art movement led by the artist's collective Human – Nature – Love – Freedom (2013). The collective has been part of over 20 exhibitions, mostly with sound and mixed-media works. Their recent work Khurvas, a mixed-media installation represented Mongolia at Today's Art festival in Hague, Netherlands (2018).

https://soundcloud.com/dvjrgl
CHARWEI TSAI is grateful for the constant flow of uplifting projects and collaborations, especially more recently, in the deserts of Dunhuang, Mongolia, and Sharjah, the mountains of Nepal, Dharamsala, Koyasan, Blue Mountains, and Smangus, and the islands of Victoria, Java, Flores, Sumba, and Green Island. All the faunas, floras, shamans and muses who were met along the way inevitably enter her process of art making and become a part of an unexpected cure.
http://charwei.com
SU-MEI TSE was born in 1973 in Luxembourg. She is a visual artist whose multidisciplinary work lyrically contemplates existence, notions of time, and rhythm. She expresses life questions by capturing fleeting moments of memories and feelings. Impressions in everyday existence, whether they be a passing thought, transitory state, or a visual or auditory impression, are powerfully translated in her compositions. Tse aims to prolong these discreet manifestations and relate them to the viewer in oftentimes formally minimal terms that can similarly elicit a multitude of meanings and further impressions. Su-Mei's work has recently been exhibited at Isabella Stewart Gardner Museum, Boston, Taipei Fine Arts Museum, Yuz Museum, Shanghai, Mudam Luxembourg, Aargauer Kunsthaus, Switzerland, Académie de France à Rome, Villa Médicis, Rome (2014) among others. Tse has additionally been the recipient of multiple prizes, including Prize for Contemporary Art by the Foundation Prince Pierre of Monaco (2009), and the Edward Steichen Award, Luxembourg (2005), and the Silver Lion at Venice Biennale (2003).