Lovely Daze is a curatorial journal of artist's writings & artworks published in limited editions. Issue 10: Travelers & Magicians is inspired by a Bhutanese film of the same name…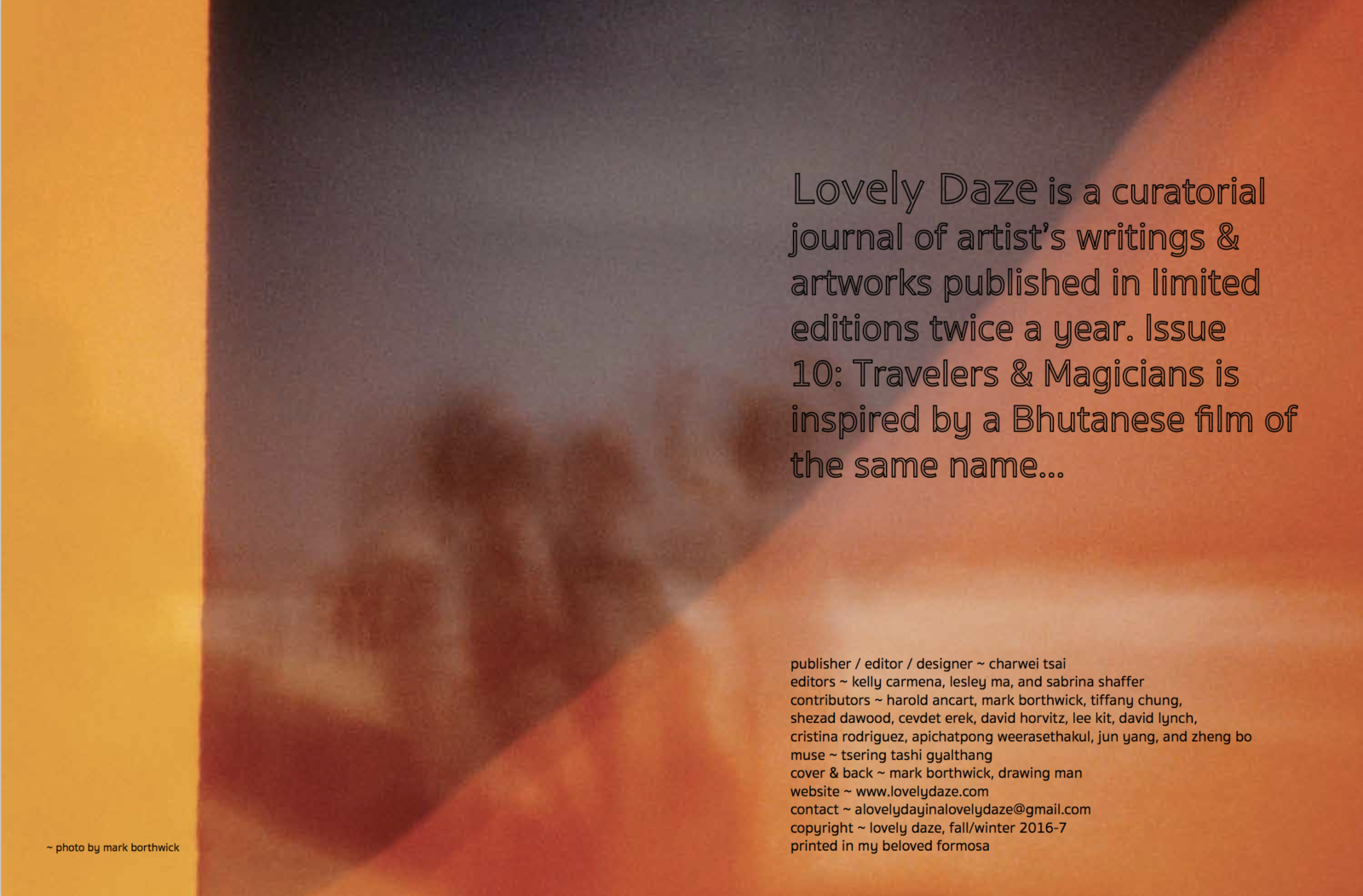 publisher / editor / designer ~ charwei tsai
editors ~ kelly carmena, lesley ma, and sabrina shaffer
contributors ~ harold ancart, mark borthwick, tiffany chung,shezad dawood, cevdet erek, david horvitz, lee kit, david lynch,cristina rodriguez, apichatpong weerasethakul, jun yang, and zheng bo
muse ~ tsering tashi gyalthang
special thanks ~ patrice forest, mathilde roussel, angela garcia,sompot chidgasornpongse, quynh pham, jenny lee, tkg, amongst many others
cover & back ~ mark borthwick, drawing man
website ~ www.lovelydaze.com
contact ~ alovelydayinalovelydaze@gmail.com
copyright ~ lovely daze, fall/winter 2016-7
printed in my beloved formosa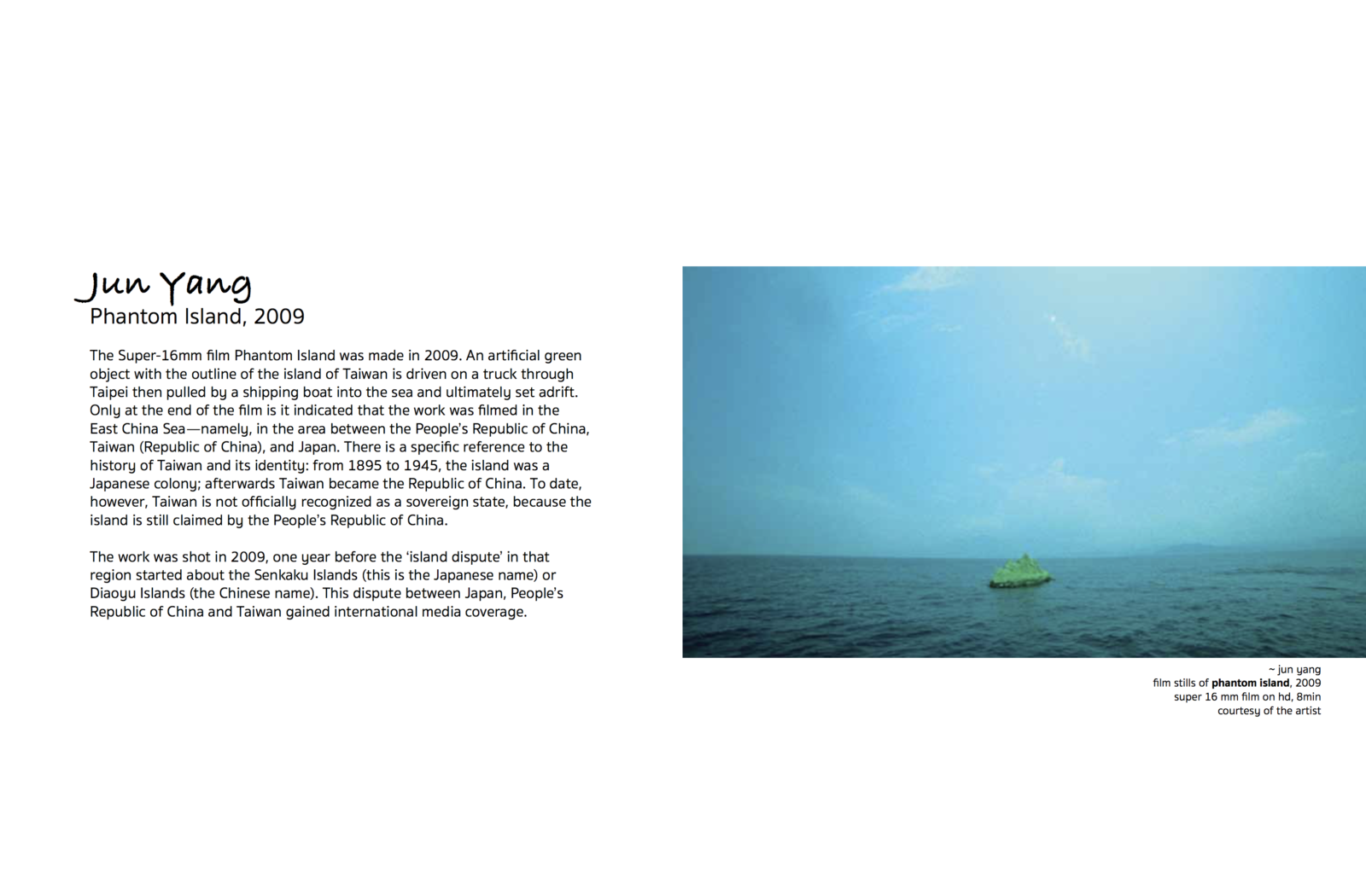 CONTRIBUTORS…
Harold ANCART lives and works in New York. In September 2016, he will present solo exhibitions at The Menil Collection in Houston and David Kordansky Gallery in Los Angeles. In 2015, his work was part of a two-person exhibition, Tierra Vaga, with Michel François at Fundacion Casa Wabi in Oaxaca, Mexico. Recent group exhibitions include Taipei Biennial, Myth/History II: Shanghai Galaxy, Yuz Museum, Shanghai, China; Europe, Europe, Astrup Fearnley Museet, Oslo; Champs Elysées, Palais de Tokyo, Paris; and Un-Scene II, Wiels, Brussels. His work is, amongst many others, including in the public collections of the Museum of Modern Art, New York; the Museum of Contemporary Art, Los Angeles; the Smithsonian's Hirshhorn Museum; and Albright-Knox Art Gallery in Buffalo, New York.
Mark BORTHWICK /… whom some time`s perform`s under "will shine" ay no mad no man no mark, was last sean in brooklyn, spain evade`ing all ode`s to fall an fail upon ay spell his recluse to seduce invisibles ay mystery that fade`s in with modesty an ardent glow, to letting the future go, we saw him perch`t upon a tree of sensual prism`s casting spell`s in to oblivion whilst sing`s as an eruptive chant an ol` traditional from an andelalucian gypsy tribe, her`s was imaginary / blasting the clamor of in essence of uncertainty`s an elixir of light`s to shadow an serenade one`s silhouette in to an oblivion who`s an horizon rising chanting, "ya gotta get over it all" whilst perch south facing the sun, in the spring till her leaf like moon beckon`s one through the eye`s of her leave`s…
Kelly CARMENA lives in Los Angeles.
Tiffany CHUNG was born in Vietnam and continues to live and work there. Her work was featured in the 2016 Venice Biennale's curated exhibition, All the World's Futures. There, she showed an installation of 40 map-based drawings relating to the ongoing crisis in Syria. Her documentation of the Syrian con ict and refugee crisis parallels her ongoing investigation of the post-1975 mass exodus of refugees from Vietnam, of which she herself was a part. In 2016, Chung's work will appear in eleven museum exhibitions and biennials on four continents, including: Insecurities: Tracing Displacement and Shelter, Museum of Modern Art, New York, NY; EVA International – Ireland's Biennial; Illumination, Louisiana Museum of Modern Art, Humlebæk, Denmark; Demarcate: Territorial Shift in Personal and Societal Mapping, San Jose Institute of Contemporary Art, San Jose, California; The XIII Bienal de Cuenca, Ecuador. She was awarded the 2013 Sharjah Biennial Prize honoring her exceptional contribution to the biennial. Chung is a co-founder of Sàn Art, an independent, artist-initiated, non-pro t gallery space & reading room in Ho Chi Minh City.
Shezad DAWOOD was born in London in 1974 and trained at Central St Martin's and the Royal College of Art before undertaking a PhD at Leeds Metropolitan University. Dawood works across lm, painting and sculpture to juxtapose discrete systems of image, language, site and multiple narratives, using the editing process as a method to explore meanings and forms between lm and painting. His practice often involves collaboration, working with groups and individuals across different territories to physically and conceptually map far-reaching lines of inquiry. These networks map across different geographic locations and communities and are particularly concerned with acts of translation and restaging. Recent solo exhibitions include Galerist, Istanbul (2016) Pioneer Works, Brooklyn (2015) Fig.2 at the ICA studio, London (2015), Parasol Unit, London, Leeds Art Gallery and OCAT Xi'an, China (all 2014), Modern Art Oxford (2012). Group exhibitions include: Taipei Biennial (2014), Marrakech Biennial (2014), MACBA Barcelona (2014), Witte de With (2013), Busan Biennale (2010), Tate Britain, Altermodern (2009), and the Venice Biennale (2009).
www.shezaddawood.com
Cevdet EREK studied Architecture at Mimar Sinan University. He has been a member
of the music band Nekropsi. He was an artist in residence at Rijksakademie in Amsterdam
in 2005-2006. He currently lives in Istanbul and continues to work at Istanbul Technical University. Erek is representing Turkey at the 2017 Venice Biennale and his installations and performances that focus on sound, space and rhythm have been exhibited in dOCUMENTA (13) (2012), Istanbul Biennial (2003, 2013 and 2015), Sydney Biennial (2016), Sharjah Biennial (2013), Stedelijk Museum (2014), MAXXI (2014 and 2015), Istanbul Modern (2014, 2015 and 2016), Arter (2011), SALT (2012 and 2015) among others. His published books are SSS – Shore Scene Soundtrack (2008, BAS), Room of Rhythms 1 (2012, Walther König) and Less Empty Maybe (2015, Revolver/Artist). His SSS – Shore Scene Soundtrack was the recipient of Nam June Paik Award given by Kunststiftung NRW (2012).
www.cevdeterek.com
Sabrina FINLAY resides in Calhoun Isles, Minnesota with her husband Chris and vizsla- pittbull India. She is very happy living across the street from her brother Ryan, his wife Sakina and daughter Soraya. Sabrina is also greatly looking forward to her next visit with Charwei. www.otabo.com
David HORVITZ was born in 1982, in Los Angeles, USA. He is a half-Japanese, California artist who currently lives and works in New York and Los Angeles. He has a BA from the University of California, Riverside, CA, an MFA from Bard College, Annandale-on-Hudson, NY, and studied abroad at Waseda University, Tokyo, Japan. He has produced numerous books and exhibited internationally, including at the New Museum, New York, NY; EVA International, Limerick City, Ireland; Kunsthal Charlottenborg, Copenhagen, Denmark; Centre for Contemporary Art, Riga, Latvia; Freedman Gallery, Albright College, Reading, PA; International Studio & Curatorial Program, New York, NY; House of Electronic Arts, Basel, Switzerland; The Kitchen, New York, NY; Surrey Art Gallery, Vancouver, Canada; Los Angeles Contemporary Exhibitions, Los Angeles, CA; SF Camerawork, San Francisco, CA; Wattis Institute for Contemporary Arts, San Francisco, CA; and Museum of Contemporary Art, Los Angeles, CA. In 2013, he founded Porcino gallery in Berlin.
www.davidhorvitz.com
LEE Kit was born in Hong Kong and is currently based in Hong Kong and Taipei. He works against his education as a traditional painter, with every piece rooted in the process of its creation rather than the product. Lee covers fabrics with acrylic stripes, plaids, and song lyrics with obsessive care. Each piece appears abstract and minimal in its simple execution, but not without a real-world purpose upon completion. The hand-painted cloths become picnic blankets, towels, tablecloths, and window curtains. The works are infused into Lee's life and memories, collecting stains and spirit in their everyday use. These paintings are then retired and displayed as testaments to the memories they witnessed, laden with more life and warmth than the stark ambiance customary to minimal and conceptual art found in galleries today. Recent exhibitions include Lee Kit: Hold your breath, dance slowly, The Walker
Art Center, Minneapolis; Lee Kit: A small sound in your head, S.M.A.K., Ghent; You(you)., representing Hong Kong at The 55th Venice Biennale; The Ungovernables New Museum Triennial, New York; No Soul For Sale, Tate Modern, London.
David LYNCH was born in 1946, in Missoula, Montana and is best known as a proli c lmmaker. Some of his lms that have now become classics include Erasure Head (1977), The Elephant Man (1980), Blue Velvet (1986), Wild at Heart (1990), and Mulholland Drive (2001). Lynch has received three Academy Award nominations for Best Director and a nomination for best screenplay. He has won France's César Award for Best Foreign Film twice, as well as the Palme d'Or at the Cannes Film Festival, and a Golden Lion award for lifetime achievement at the Venice Film Festival. The French government awarded him the Legion of Honor, the country's top civilian honor, as a Chevalier in 2002 and then an Officier in 2007. Lynch's work extends to the world of television, music, painting, and many other forms of art. His painting is characterized by its absence of color. He believes that black is a liberating factor and uses it to make his works become more dreamlike. The series of lithographs presented in this journal was printed at the historic printmaking shop Idem in Montparnasse, Paris. In addition to his contribution to the arts, since 2005, Lynch founded the non-pro t organization David Lynch Foundation to fund the implementation of scientifically proven stress-reducing modalities for at-risk populations, including U.S. veterans and African war refugees with post-traumatic stress disorder (PTSD), inner-city students, Native Americans, homeless and incarcerated men.
www.davidlynchfoundation.org
Lesley MA is the curator of Ink Art at M+ in Hong Kong.
Cristina RODRIGUEZ was born in Colombia in 1980 and left with her family in the United States when she was a teenager. She returned to her home country in 2010 where she recently finished her Master of Fine Arts at the National University of Colombia. She is currently an artist-in-residence at Flora ars+natura in Bogotá.
www.cristinarodriguez.info
Charwei TSAI is grateful to her dearest editors & contributors who took time from their busy schedules and travels to support this little book. Lovely Daze is now eleven-years-old!
www.charwei.com
Apichatpong WEERASETHAKUL was born in 1970 and grew up in the northeastern Thai city of Khon Kaen. He studied architecture before graduating in lm at the School of the Art Institute of Chicago in 1997, and currently lives and works in Chiang Mai. Weerasethakul is well known for both his feature-length lms and experimental video works which deal with memory and focus on stories drawn from his native Thailand. Favouring unconventional narrative structures, improvisation and everyday people rather than trained actors, Weerasethakul's works sit somewhere between fiction and documentary, inspired as they are by the lives of his subjects. With a characteristically poetic and at times dreamlike style, Weerasethakul's lms subtly addressed personal politics and social issues, touching on themes such as sexuality, nature, and Western perceptions of Thailand and Asia more generally. His lm, Uncle Boonmee Who Can Recall His Past Lives, won a Palme d'Or prize at the 63rd Cannes Film Festival in 2010. In 2005, he was presented with one of Thailand's most prestigious awards, Silpatorn, by the Thai Ministry of Culture. In 2008, the French Minister of Culture bestowed on him the medal of Chevalier de l'ordre des arts et des letter (Knight of the Order of Arts and Literature). In 2011, he was given another honor in the same eld with an Of cer Medal. Apichatpong has participated in a number of international exhibitions, including dOCUMENTA 13 in Kassel, Germany in 2012, Sharjah Biennale in UAE in 2013, Liverpool Biennial in 2006, Busan Biennial in 2004, and the Istanbul Biennial in 2001. In 2016, a retrospective of his lms was presented at Tate Britain, UK. www.kickthemachine.com
Jun YANG is an artist based in Vienna, Taipei and Yokohama. His works encompass various mediums – including, lm, installation, performance and projects in public spaces while addressing institutions, societies and audiences. Having grown up and lived in various different cultural contexts, in his artistic work Yang examines the in uence of clichés and media images on identity politics.
Previous exhibitions include the Gwangju Biennale 2012; the Taipei Biennial 2008, the Liverpool Biennial 2006, the 51st Biennale di Venezia 2005, and the Manifesta 4 in 2002. He is the recipient of the 25th Otto Mauer Art Award in 2005.
ZHENG Bo was born in 1974 in Beijing and currently lives and works in Hong Kong. Committed to socially and ecologically engaged art through practice and research, Zheng investigates the past and the present from the perspective of marginalized communities and marginalized plants. He has worked with a range of communities, including the Queer Cultural Center in Beijing and Filipino domestic helpers in Hong Kong. His recent projects include Sing for Her (2013-15, a large-scale interactive installation created with seven minority groups in Hong Kong), Plants Living in Shanghai (2013, an open online course created with scholars in ecology, literary studies, and Chinese medicine), Weed Party (2015, a multimedia inquiry into the role of plants in the history of the Chinese Communist Party), and Socialism Good (2016, planting the Chinese slogan "Socialism Good" at Cass Sculpture Foundation in UK and leaving it to be intervened by weeds). He holds a PhD in Visual & Cultural Studies from University of Rochester, and teaches at the School of Creative Media, City University of Hong Kong.