Installation
Dimensions Variable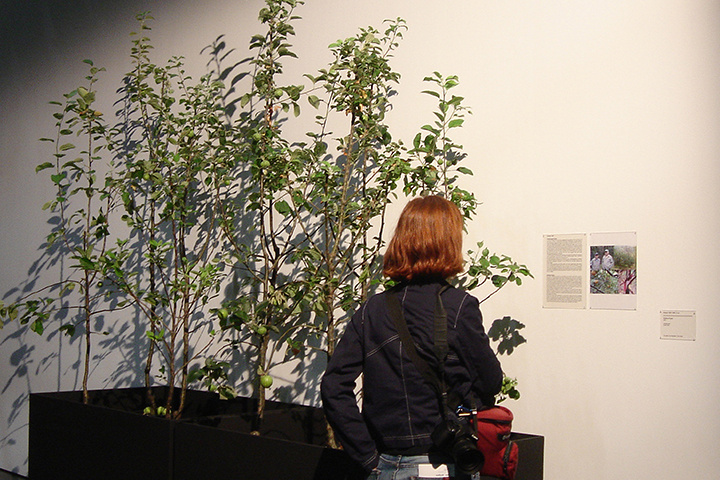 Last spring, I happened to walk into a grandfather and a father at their family owned orange grove on a rainy day when they were to fixing their roof. Their farm is located at a mountain just outside of Taipei, where I grew up. The father told me that he was raised in the groves and learned how to graft orange trees from his grandfather. During the 80's when Taiwan was rapidly industrializing, their family adapted to more profitable businesses in the city, but kept the orange farm as a hobby. Like me, his children are living abroad in the States and Canada. They are studying urban planning and fashion design, and are not interested in continuing the orange farming business. Though the father has always enjoyed waking up early and working in the farm with his family, he does not mind that his children are pursuing more ambitious goals of their own.
I see the process of grafting as a powerful metaphor for how one's life may adapt to another then merge, transform, and become stronger as a whole through time. For the exhibition Thermocline of Art: New Asian Waves at ZKM Center of Art and Media in Karlsruhe, I worked with the meseum's Dr. Andreas F. Beitin who has a deep knowledge with plants to apply the same grafting technique used by local farmers on apple tress that are native to Karlsruhe and create a little forest where old and new branches are merging and fruiting.
The text that I have written repetitively on the branches, leaves, and fruits is a Buddhist scripture, the Heart Sutra, that I have memorized since I was little. It is a text about the wisdom of emptiness and by applying the text on ephemeral objects such as the apple trees, the fleeting existence of these objects are revealed as they undergo the natural cycle of growth, decay and rebirth. The transformation of the text and the trees reveals the complex and fascinating relationship between nature, spirituality, and intellect.