Draw me a Flag, 2018
A Beautiful Elsewhere
Organized by Fondation Cartier pour l'art contemporain
Power Station of Art, Shanghai, China
25 April to 29 July 2018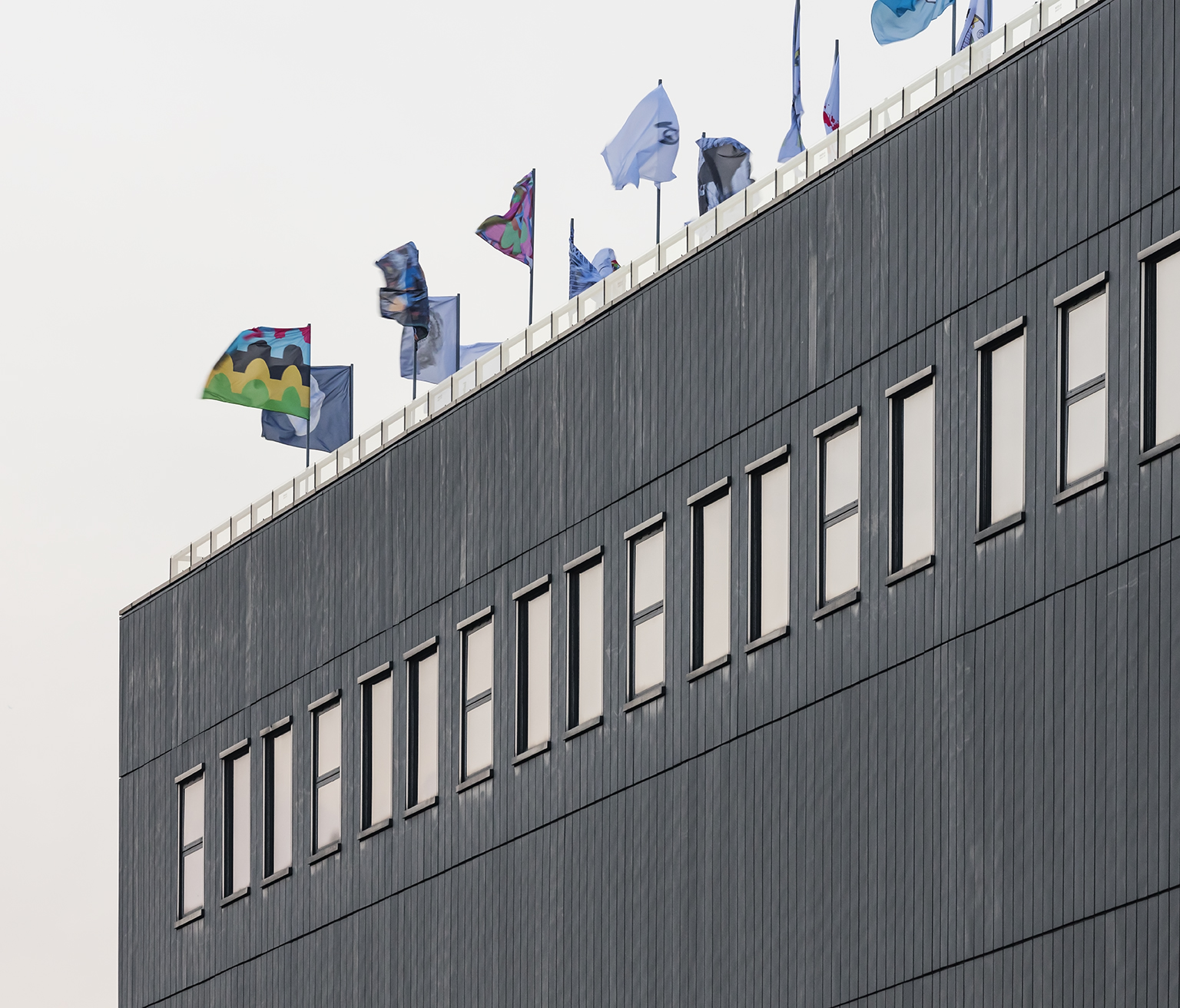 Based on an idea by Christian Boltanski, the Fondation Cartier pour l'art contemporain has launched a project designed for the spectacular fifth-floor terrace of the museum. The installation consists of around eighty flags designed by artists, scientists, philosophers, and friends of the Fondation Cartier, who have contributed to its program over the years, and today from a strong community.
Agnès Varda, Alain Séchas, Alessandro Mendini, Andrea Branzi, Andrei Ujica, Angelika Markul, Anna Mariani, Artavazd Pelechian, Beatriz Milhazes, Bernard Piffaretti, Bernie Krause, Cai Guo-Qiang, Charwei Tsai, Chéri Samba, Christian Boltanski, Claude Caillol, Claudia Andujar, Clemente Juliuz, Daido Moriyama, Davi Kopenawa, David Lynch, Didier Marcel, Elodie Lesourd, Esteban Klassen, Fei Dawei, Franck Scurti, François Curlet, François-Bernard Mâche, Fredi Casco, Gao Shan, Gérard Garouste, Guillermo Kuitca, Hélène Delprat, Hiroshi Sugimoto, Hu Liu, Hubert Duprat, Hugues Reip, Iran, Jean-Michel Alberola, Jean-Baptiste Bruant, Jean-Michel Othoniel, Jean-Pierre Raynaud, John Maeda, Joseca Yanomani, JP Mika , Judith Bartolani, Leandro Erlich, Leslie Wayne, Li Yongbin, Macha Makeïeff, Marc Couturier, Marc Newson, Marcos Ortiz, Marie Darrieussecq, Michel Cassé, Michel Temman, Mœbius, Monique Frydman, Nobuyoshi Araki, Osvaldo Pitoe, Panamarenko, Raymond Depardon & Claudine Nougaret, Rinko Kawauchi, Roland Lehoucq (illustration of Ève Barlier and Alexandre Martins), Ron Arad, Sarah Sze, Tabaimo, Tadanori Yokoo, Tara Thonik , Tim Hawkinson, Vija Celmins, Vincent Beaurin, Wang Bing, Yan Pei-Ming, Yang Jiechang and Yue Minjun.
Photos by Luc Boegly and Ledao
Courtesy of Fondation Cartier, Paris