A Solo Exhibition by Charwei Tsai
Curated by Eugene Tan
Espace Louis Vuitton, Singapore
15 November 2012 ~ March 2013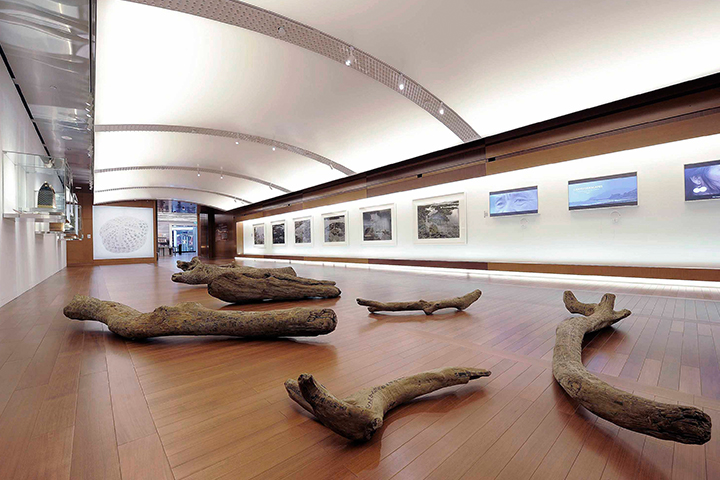 Press Release:
"A Dedication to the Sea" by Taiwanese artist, Charwei Tsai, will explore the sea and its many complex and mystical facets. Central to Tsai's practice is the act of inscription of the seminal Buddhist text, the Heart Sutra. The sutra highlights the 'emptiness' and ephemeral nature of all phenomena as the only eternal condition. In previous works, Tsai has inscribed the Heart Sutra onto organic and impermanent objects, such as tofu, mushrooms and bonsai plants, thereby manifesting the transience and ephemerality posited by the sutra as a corporeal experience. This exhibition extends Tsai's examination of transience and ephemerality to our relationship with the sea. Sea Mantra and other works in the exhibition, where Tsai continues her inscription of the Heart Sutra, will highlight the compelling beauty of the sea, but also the ephemerality of this condition. The beauty or sensation of the sublime that the sea invokes is inseparable from it vastness and its scale, which is also the source of its destructive power, thereby also invoking a sense of unease, which can border on the terrifying.
The exhibition will therefore also explore the sea as the source of life and death. Created in collaboration with Tibetan director Tsering Tashi Gyalthang on the island of Lanyu, or Orchid Island, off the southeastern coast of Taiwan, a series of videos and photographs will highlight the importance of the sea not only for the livelihood of coastal communities, who live off fishing, but also for their culture. This works will focus on women from the Tao tribe and their performance of ritual dance, which involves using their sensuous long hair to emulate the movement of waves, as a way to ensure the safe return of their men from the sea, thereby highlight the tensions in our relationship with the sea and the dangers that it can pose.
Tsai's exhibition thereby reflects upon the varied and complex relationships that the sea has to our contemporary society through meditation on a culture that revolves closely around nature. It further explores the intricate relationships between indigenous belief, the spiritual realm and impermanence.